Lady Gaga has always said she cannot live without her Little Monsters. And she found the way how to thank them for their support – she has appeared in a dress and ankle boots with the portraits of her fans in a new promotional video of MAC Viva Glam charitable collection.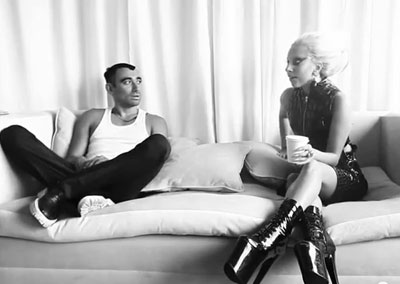 The fancy image of the singer has been created by her longtime friend and stylist Nicola Formichetti, the creative director of the Thierry Mugler fashion house. The outfit is called The Masterpiece (quite modest!). The designer has introduced the prints of the fans' photos on the fabric of the same color as the lipstick the star presents (it is worth mentioning that a part of the funds raised from its sale is aimed at fighting AIDS).
By the way, the faces of the Little Monsters appear not only on the dress, but in the video as well. Lady Gaga explains why she has agreed to participate in the project saying that she has always liked Viva Glam campaigns, and she admires the fact that they enhance people's awareness of the necessity to fight against this terrible disease. Lady Gaga thinks it is a great way to talk about AIDS. She is absolutely happy to be a part of the project.
Thanks to the singer's participation, the MAC Aids Fund was able to collect about 55 million dollars. The "ambassadors" of the campaign also included Elton John, Cyndi Lauper and Mary J. Blige. Ricky Martin and Nicki Minaj are going to join them in February this year.