Turns out your handbag could be something more than just an accessory to carry cosmetics, wallet and hair brush in. You can use it as a gadget. Want to know how? England-based company BagTV has offered out-of-the-box approach to the design of this traditional female accessory by integrating a portable DVD player into the handbag.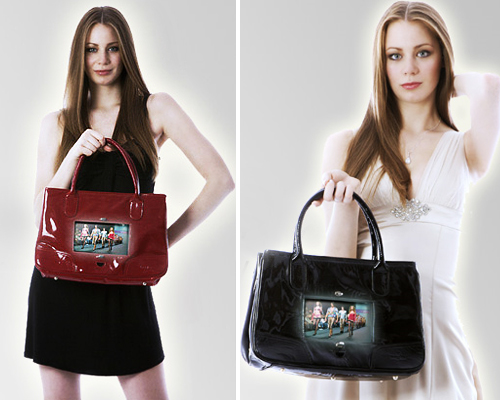 Enthusiasts of "hi-tech" fashion can choose from a range of seven colors, from patent black to girly pink. Multimedia functions are realized by DVD/MPEG player in a special compartment and 7-inch LCD screen fitted into a viewing window on one side of the bag. You can put a flap on the screen and nobody will distinguish your BagTV from the rest of handbags around. But you make all the difference by flapping it open and watching movies from your "handbag of the future" for 2.5 hours – that much time of autonomous work the built-in battery provides.
Well, the handbag is not only good for entertaining the crowd – you can just sit down comfortably and listen to the music, or view pictures, or watch a movie (just like with DVDs or SD-card).
"Handbag" player is detachable, so you can use your bag and the player separately. Taken out of its chic "environment", the DVD-player suspiciously recalls portable multimedia players introduced into the market like 2-3 years ago. No word anywhere as to the weight of "empty" BagTV, but if the player used in the bag is really that old, it must weigh around 2 pounds. Seems that this kind of handbag would feel like carrying a brick.
Well, if a gadget fiend still wants to carry bricks in her bag just to enjoy 2.5 hours of multimedia, there is overpricing. BagTV sells for about $432. You can even buy the bag and the player separately. The handbag retails for $286 and the player – for $212. So it goes.
Source of the image: bagtv.com.