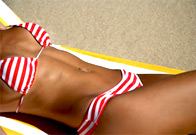 As you know, blue-eyed and fair-skinned people, let alone red-haired, couldn't enjoy having a nice tan. But science is forging ahead. Scientists discovered a hormone-like substance injections of which would satisfy anyone's desire for chocolate tan. What's more, "scientific" tan would stay on three times longer.
Scientists found the substance that maximizes the skin's ability to acquire a tan. New substance was called melanotan 1.
It is produced from a hormone responsible for skin pigmentation that plays an important role in obtaining a beautiful tan. The major implication of this scientific achievement is that people with sensitive skin – mostly white-skinned people – are now offered an opportunity to have a better protection for their skin as well as for acquiring a tan without sunburns and other unpleasant consequences. The progress of the study was described in details in the Archives of Dermatology magazine.
In the course of the research, trials were conducted on three different groups. The time framework for experiments varied from 10 days to two weeks. The researchers focused on how the sunlight affects melanotan 1. During 10 days, the first group was getting minor doses of the substance injected, for the second group the dose was doubled and the third group had the largest amount. Then, volunteers were being exposed both to the sunlight and the artificial light of lamps resembling those used in tanning salons. There was also a control group that was taking a placebo.
The results showed the first group obtained half as good tan as the second. People from the third group acquired a tan two times faster than the control people. The third group got the largest doses injected over the longest period of time. What's more their tan stayed on three times longer.
Melanotan is a magic bullet for those with fair skin. It boosts pigmentation and provides a better protection from UV light, thus reducing the risk of skin cancer. Yet, those with darker skin will hardly refuse an opportunity to keep their tan longer. However, when it comes down to sunbaths, you should know when enough is enough. Unfortunately, there was no saying about melanotan 1 adverse effects.
Source of the image: healthychoicenaturals.com.