Princess Catherine and Prince William have entered the world of dolls via the efforts of British toy company Arklu which created the toy images of the royal couple commemorating their wedding in April. The dolls were exhibited to the world Thursday at London's Hamleys toy store.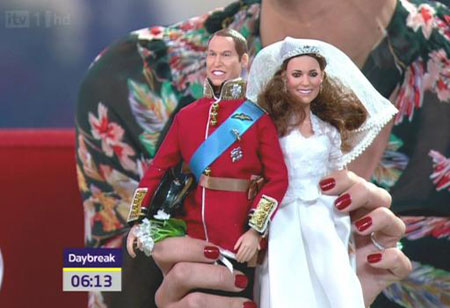 The Princess Catherine doll, described as "a sweet and lovely child-like version," is wearing the famous Sarah Burton and Alexander McQueen wedding dress made with a signature care for details. The outfit is completed with a tiara, a lace-trimmed veil and shoes. She has earrings, rings, and is holding a bouquet. Her blue knickers carry the designer's ribbons.
Prince William, with a cap under his arm, is notable for somewhat striking pink socks and W-stamped shoes in accordance with reports to the effect that he marks his shoes so that he won't mix them up with his brother's.
The boxed wedding set is priced at $165, you can get a single Catherine doll for $83 but you can't get a single William. Arklu intends to give $1.65 from every doll bought to the Royal National Lifeboat Institution.
Leaving aside the fact that Middleton is officially known as Duchess of Cambridge and not Princess Catherine (the latter sure sounds better in the doll world!), the dolls' heads look definitely larger than they ought to be, and their fixed smiles may be found by some not very appealing. Arklu insists, though, that the dolls are recognizable and may be referred to as "delightfully kitsch."
Source of the image: Thehollywoodgossip.