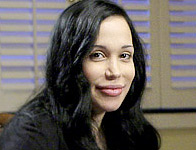 California resident Nadya Suleman, who recently gave birth to octuplets, fears that the Kaiser Permanente Medical Center may keep her children until she proves her ability to support them. According to AP, Phil McGraw, psychotherapist and host of popular TV show, announced this statement by citing a telephone conversation with Nadya Suleman.
According to McGraw, representatives from the Kaiser Permanente Bellflower Medical Center, where the octuplets currently stay, stated that they will not release the babies to the mother until she improves her living conditions. Moreover, they also expressed some doubts about her ability to take care of those children. McGraw noted that he does not have information on what kind of criteria and requirements Suleman does not meet according to the doctors.
33-year-old unemployed Nadya Suleman, mother of the octuplets conceived through in-vitro fertilization, has been raising her six children before giving birth. This unemployed and single woman lives with her children and elderly parents in a three-bedroom house in the town of Whitte. Food stamps and disability payments to her three children make Nadya's family budget. Some American media report that Suleman's house could be sold off in order to pay the mortgage debts.
As for now, the California's octuplets' mom hopes to fix her financial situation through the website, which she launched a few weeks ago in order to collect donations. In addition, she may agree to write a book or star in a reality show. Another alternative for Suleman is to consider a proposal made by Vivid Entertainment pornography studio, which offered her one million dollars and medical coverage if she stars in one of their adult film.
Source of the image: usmagazine.com.