Husbands and partners lose out to female friends on a large scale when it comes to enjoying leisure hours, as emerged from a poll of married women undertaken by Lakeside Shopping Centre.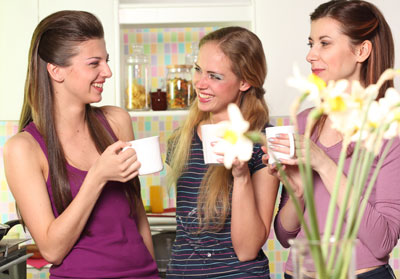 When weekends come, thousands of family women in Britain turn to their BFFs for most psychologically comfortable time – of 3,000 polled women 30% said they definitely preferred the company of their girlfriends. And when it comes to shopping the percentage of friends over partners grows dramatically to 60%, ensuring the average woman of needed quality advice and fruitful discussion and excluding possible grudging over the prices of certain items.
Pleasures of a day spa, a meal out or just having a glass of wine together – seasoned with a lot of gossip, surely – follow shopping on the list of the most popular female weekend activities.
Almost half of the 3,000 complained that their partner is not the person they can talk freely in the presence of – and 10% admitted that they don't feel like their true selves with the partner around, a comfort they draw from their friends' company.
It was a "fascinating" piece of news, said a spokesperson for Lakeside Shopping Centre, that for so many women escapism and relaxation should feel best when shared with girlfriends and not with husbands.
Source of the image: Photl.