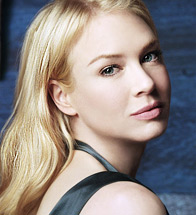 Renée Zellweger, a famous Hollywood actress, enjoys smooth alabaster skin and charming smile. But she's unfortunate to have small eyes. Of course, if small eyes are expressive, they look more appealing than those big, but empty eyes. Anyway, Renée always has a splendid natural makeup and her visage experts constantly invent new ways to advantageously accentuate her eyes. Here are some easy tips you should follow to make small eyes look bigger and not "get lost" on the face.
Eye Shadow Colors for Small Eyes
Try to avoid eye shadows of rich dark colors, – let alone matte ones. That's what makes your eyes look even smaller. Go for an eye shadow palette coming with a variety of pale colors that have no shimmer in them.
Eyeliner on Small Eyes
Don't make your line thick and dark. This could put unwanted focus on your eyelids. For a more natural appearance, choose eye liner pencils of light brown, gray or blue shades.
Pearly Makeup
Get the most out of pearl's optical effect of creating the illusion of larger eyes. Apply a pearly or pale shimmering eye shadow on the eyelids – this will help to open up your eyes; line the inner rims of your eyes with a light pearl pencil.
Mascara to Make Eyes Appear Bigger
You can use lengthening mascara for your lashes and curl them with an eyelash curler for special occasions. Long lashes give your eyes a lager look.
Shape your eyebrows by plucking away at bushy brows to create a thin arch curving gracefully.
Best Weekday Makeup
For your daytime makeup, you just need to sweep a touch of light shimmering shadows over your eye lids and to apply two coats of lengthening mascara. Don't forget to brush eyebrows smartly.
Evening Makeup for Small Eyes
For evening makeup, apply eyeshadow foundation across your lids first and then draw the line around your eyes with a pencil. Brush up the foundation with the eyeshadow of appropriate shade to produce a smoky eye effect. Draw on your inner rims with white eye liner or with shimmering liquid shadow. Curl the eyelashes and finish with two coats of mascara. Now brush your brows and define them with a powder or pencil. Apply a brow gel to fix your eyebrows.
Putting black eyeliner on inner eye rims is known to emphasize large eyes, while it makes small eyes, on the contrary, visually smaller. Highlight your inner rims with a pencil of white or pale shades – this really can make your eyes stand out.
Source of the image: gulum.net.