You have probably already heard about chameleon nail polish. Some fashion-lovers use them quite regularly. Those nail polishes change color depending on the angle of light. How about innovative nail polish, which changes color in response to your mood?
How would it determine the mood? Very easy – as the temperature of the environment or body changes the substance changes its color. Indeed, when we go outside we usually put on some outerwear and thus need different nail color to match it.

One of the most popular maker of such nail polish is the brand Claire's. We present to your attention two versions of this moody-innovation. On the photos, the models put their hands in water for a reason. This way they were trying to capture color change by using cold water first and then changing to warm water.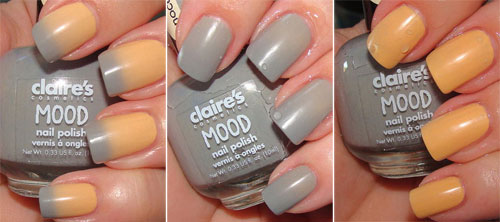 Under normal temperature the color of the nail polish will  not look uniform because nails tend to have different temperature along their surface: colder at the tips and warmer where in contact with the body. Thus, we get interesting two-tone effect.
Perhaps we will soon have nail polish that changes in response to human voice or musical tone.
Source of the images: bellasugar.com.