Defenders of the economical approach to the content of a cosmetic bag believe that these two products can be replaced by a single product, and in general one can choose either a lipstick or a gloss. Perhaps they are right. But we'll drop the conversations about the minimum and concentrate on the maximum. As it is often said, we just deserve it.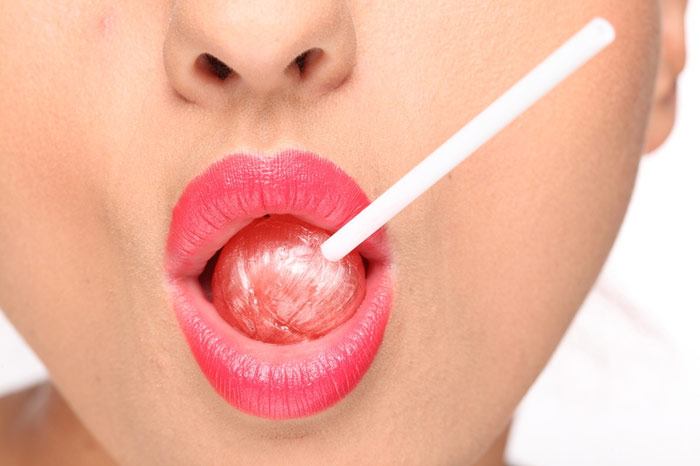 Lip gloss
Lip glosses seem undervalued. Many people remember the first sticky and unstable glosses from the 1990-s and do not try new products. They are not right. Modern novelties can be called a must-have product in a cosmetic bag. Some professional makeup artists believe that modern women should have plenty of lip glosses.
How to apply lip gloss:
As a standalone product, it is applied directly on the skin of the lips.
As a supplement to the lipstick. If you select a lip gloss that will match your lipstick shade, it will make the lip color more intense, and the coating – glossy.
With the help of lip gloss, you can create your own eyeliner; you just need to mix lip gloss with powder shadows.
Lip gloss works as wax for eyebrows. It is an excellent way to tame unruly eyebrow hairs, and you can add a bit of brown powder shadows into the lip gloss and get tint eyebrow wax.
Creating a collection of lip glosses
Lip glosses are often sold in sticks or tubes with an applicator. Although there are varieties of lip gloss in jars, they are tint balms rather than glosses, or multitasking blush and lip gloss products.
Lip gloss can be completely glossy and can have pearly shimmer or metallic shimmer. There are also products with glitter. Here are the shades of gloss that are needed for every woman and will be trendy in 2014-2015:
Colorless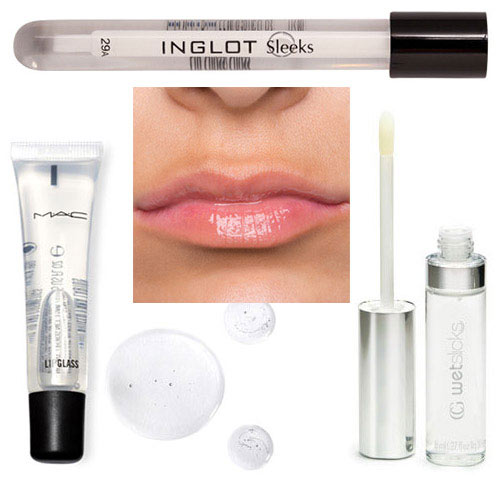 Universal lip gloss that can be used as a standalone product, or as a supplement to lipstick. Transparent lip glosses, as a rule, are the stickiest ones. It is best to apply colorless lip glosses on the middle of the lips rather than on their entire surface. MAC Clear Lipglass, Inglot Cosmetics Sleeks Lip Gloss (#29A), Covergirl Wetslicks Lip Gloss (Clear Radiance).
Neutral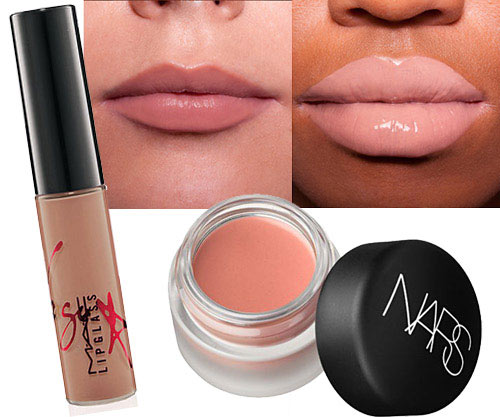 Nude is trendy. This is a natural lip color that will add a cleaner and more pleasant shade to the neutral luster. Neutral shades can be light pink, peach, faded pink, soft brown and infant skin color. MAC Viva Glam Gaga Lipglass, NARS Lip Lacquer (Chelsea Girls).
Basic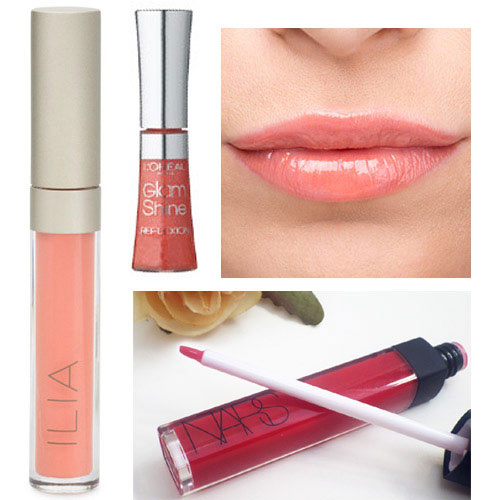 This is the color that you unmistakably choose in a store. It is suitable for the shade of your skin and is appropriate in any situation. This is the most desired lip gloss, a must-have. For someone it is orange, for others it is red or crimson. L'Oreal Glam Shine, ILIA Lip Gloss (The Butterfly), NARS Larger Than Life Lip Gloss (Norma).
Metallic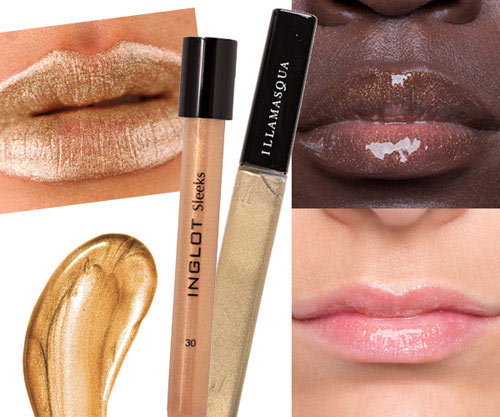 Lip glosses with silver, gold, platinum (metal particles) give an interesting glow. In this case, the metallic effect can be added to almost any shade: cold, warm, soft or dramatic. It is needless to say that these glosses are rather an evening option. And if you use them during the day, then pick up the metallic effect to match the skin tone. If you have cool skin shade, choose aluminum and silver, if the skin looks warm – gold, bronze, copper. Dolce & Gabbana Ultra Shine Lip Gloss (#160 Gold), Inglot Cosmetics Sleeks Lip Gloss (#30), Illamasqua Intense Lip Gloss (Stranger).
Bright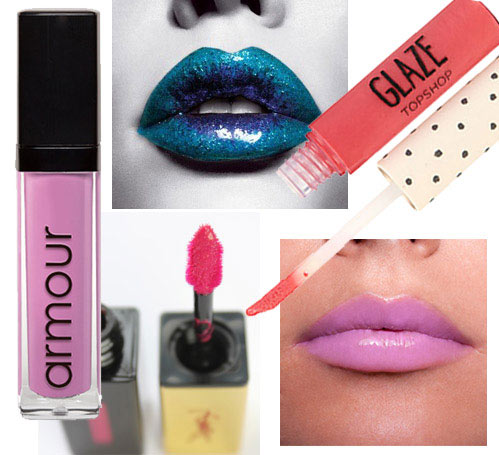 These are neon and other "crazy" colors. Unexpected shades of blue, green, yellow, and neon in all its forms, fuchsia, orange. Such lips should be in the spotlight, so prepare to be in the focus of attention on the dance floor. Bright lip glosses are good for beach and disco makeup. Armour Beauty Lip Gloss (Candy), Topshop Glaze (Bubblegum), YSL Rouge Pur Couture Vernis à Lèvres Glossy Stain (Fuschia Dore).
Dark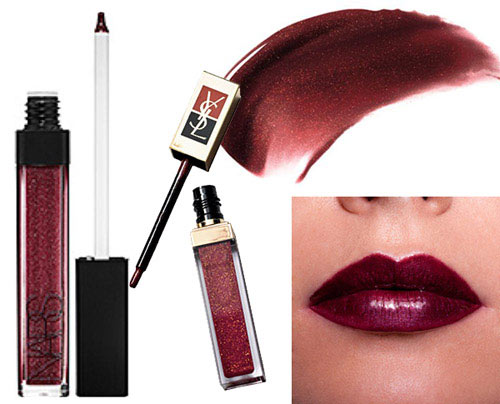 Burgundy and dark berry shades have been trendy since the fall. And this is a good choice not only for the cold weather, but also for the "hot" parties. YSL, NARS lip glosses.
Lipstick
It is nice to have a wide range of lipstick as a means of expressing mood or your image. Start from selecting a suitable texture.
Matte. As a rule, pigments in matte products tend to be more saturated and bright. This means that matte lipsticks are more resistant and less 'floating'. Matte lipstick is for those who are not afraid of color and dense lip coating. The downside is that matte products dehydrate and emphasize wrinkles.
Satin and cream. Both textures are perfect for everyday use. They are the easiest to apply, satin or cream products maintain a high moisture level, which is a very important quality for a lipstick.
Frosty. This texture of lipstick always means more subtle shade, less pigment and very light flickering; sometimes it is pearly. Frosty finish is not always good for dark skin and warm skin tones. On the bright lips frosty lipstick looks great!
Shining. This lipstick has lip gloss qualities, but lasts much longer than lip gloss. Lipstick visually increases lip volume, and it is easy to apply.
Choosing a color
Generally, all colors can be divided into two broad categories: bright and neutral.
Bright colors
Red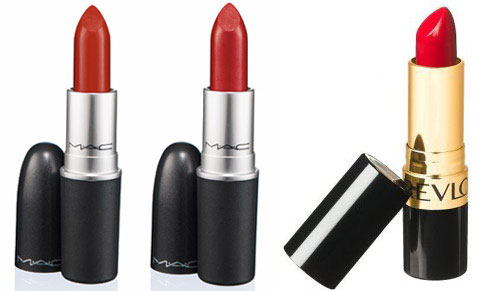 It is a classic color that never goes out of fashion. Please note that not every shade of red can be called universal. Makeup artists believe that one should look for a red halftone to match the color of the skin. For example, there is a bluish or blue undertone for the cold pale skin, and orange lipstick shades are suitable for warm skin. Some of the most beautiful red lipstick options are: MAC Lipstick (Russian Red), MAC Lipstick (Ruby Woo), Revlon Super Lustrous Creme Lipstick (Cherries in the Snow).
Carnation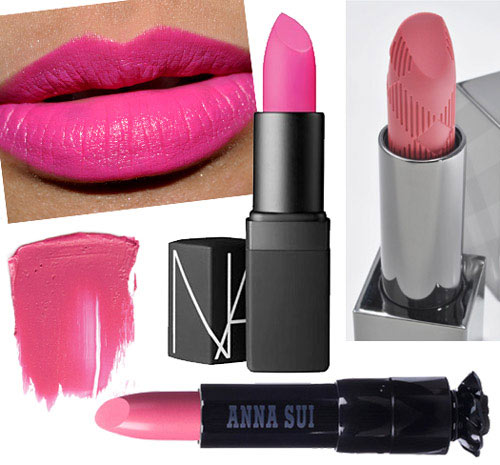 It includes all shades of pale pink and dusty pink to fuchsia. Pink shades in general are among the most diverse ones, they can be pale, bright or deep. Bright pink lipstick is as glamorous as red lipstick, so you should try to have this shade in your palette. The trendiest pink shades of lipstick are: NARS Semi-Matte Lipstick (Schiap), Burberry Lip Mist (Feather Pink), Anna Sui Lipstick in 305.
Orange and coral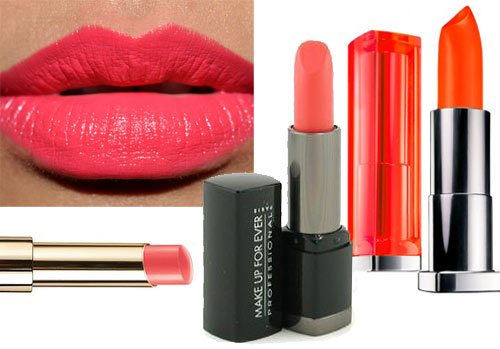 Many women make a mistake rejecting orange lipstick because this shade is able to make the skin glow and get rid of the blue tones. You can choose not only bright orange, but peach and coral shades or soft. Some of the recognized standards among these shades are L'Oreal Colour Riche Caresse Stick Lipstick (Sunset Angora), Maybelline Color Sensational Vivids Lip color (Electric Orange), Make Up For Ever Rouge Artist Intense Lipstick (Satin Coral).
Neutral colors
Brown and gray-brown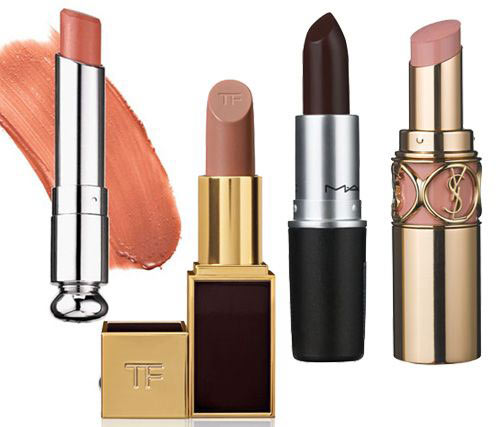 One should not be afraid of these colors. In fact, gray and brown colors are universal. They can complement both dramatic and natural image. In case of light skin tones, brown shades look bold, whereas on dark skin this lipstick will look neutral. Gray and even coal shades are a very good choice for autumn. They are also included into this group of colors. The standard color shades are represented by such options: Dior Addict Lipstick (Beige Casual), YSL Rose Volupte Lipstick (Sensual), Tom Ford Sable Smoke, MAC Lipstick (Film Noir).
Nude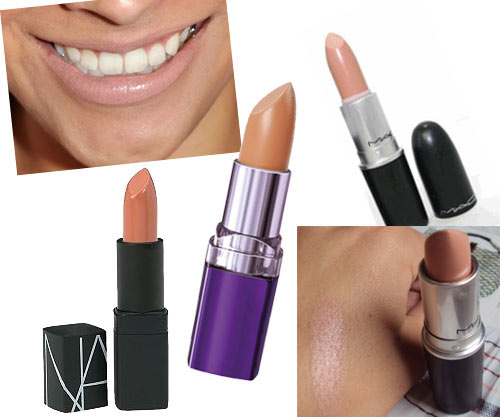 Nude shades range from pink and peach to faded pink and beige. In fact, this color echoes the tone of the skin. The nude shades of lipstick are almost mandatory. Take a closer look and find your version: Rimmel Moisture Renew Lipstick (Nude Delight), NARS Lipstick (Barbarella), MAC Lipstick (Creme D'Nude).
We hope you are inspired by such a wide range of proposals for the lips, and you will create your palette and your collection of glosses and lipsticks. Why not collect the maximum of available products for yourself?