Here comes the long-expected Nicole nail polish collection by the Kardashians and OPI, and it is unostentatiously announced as Kardashian Kolors.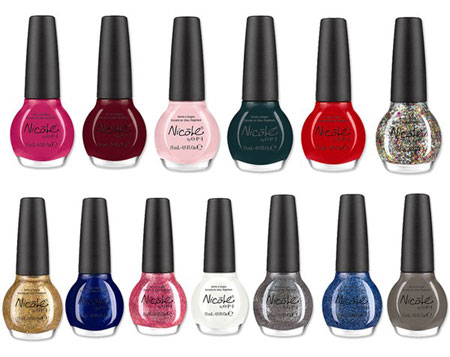 It is a set of 14 colors (yes, some of the dictionaries still give the old-fashioned spelling!) that are rather predictable but look good. The outstanding feature is the names that embrace the whole family in a spate of funny wordplay like Sealed With a Kris, Kim-pletely In Love, Khloe Had a Little Lam-Lam, or kolorful Rainbow in the S-Kylie. Hard Kourt Fashionista and Kendall on the Katwalk are descriptive and memorable, tempting us to choose by name rather than by kolor, but at the price of $8 each you can just get the whole pack.
There may be another attempt quite soon to misplace some more c's on the part of the enterprising family – it becomes an unpopular letter in the fashion alphabet, no?
Source of the image: Stylelist.