Illamasqua Christmas makeup collection was released under the slogan: "I'm not dreaming of a white Christmas."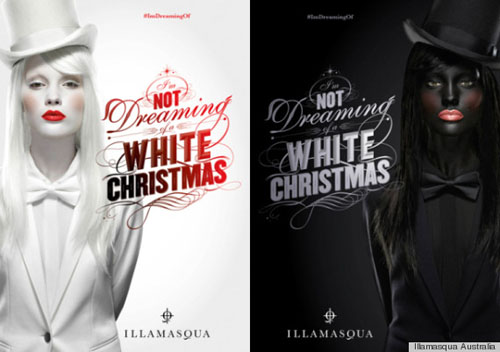 Hot discussions appeared on Illamasqua page in Facebook in Australia. The members of the network accused the brand of racism and insulting people with the dark skin color. The promotional image includes two photographs. One of them features a darker-skinned female model against the black background, and the other photo presents a white model and the white background.
Of course, at first glance, one can find the fault in the words "White Christmas"… But the idea of ​​the brand is not the emphasis on skin color, but the attention to the color of makeup. It should be noted that the models are barely alive. They are like mannequins, as if they were poured with white and black paint from head to toe. And all that can be seen is the color of makeup. The brand insists that the key to their products is the color ON the skin rather than the color of the skin itself. The idea belongs to ​Alex Box, the author of the advertising. He intended to show that the color of the skin and even the color of the environment does not matter if you're using Illamasqua makeup, which offers bright and opaque COLOR.