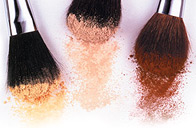 A lot of women believe that blush simply does not go with them or that it is impossible for them to select the right color. Yet a single brush-stroke can give a fresh and well-rested look to your face. There are some rules to be followed when hunting for the right blush color.
Check the Blush Color on Your Skin
Never buy blush unless you have checked out the tone on your face. The color in the box may look differently and the blush you liked so much in the shop might not suit you at all once you try it at home.
Light and Blush Color
Examine the tone of the blush in well-lighted room, daylight is preferred. Artificial electrical light may distort the color.
Blush Tones That Suit Every Woman
There are no universal tones, but neutral beige-rosy shades suit almost everyone, while brown-orange ones look bad on literally everyone.
When choosing the blush color, take the color of your lipstick into account – both tones should match.
Natural Way to Choose the Blush Color
The simplest way to determine which shade is the one you need is to pinch your cheeks quite intensively, then the perfect tone should be similar to the one you get on your face after this procedure.
Blush and Lipstick Colors
When applying blush, remember that the blush should match the color of your lipstick. For instance, red lipstick can be matched only with either neutral, almost unnoticeable blush or the one with the same reddish color, similar to the one of the lipstick.