The Allure edition has selected top 6 styles of the nail polish, which can be observed in the new season. The ideas were demonstrated at the New York Fall 2013 shows.
Creatures Of The Wind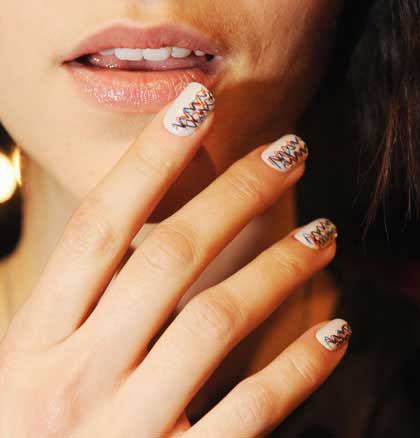 Spectacular and unexpectedly simple nail design:
apply two layers of cream-colored CND nail polish,
mentally divide the nail into two halves vertically,
use four colors (cyan, brown, orange, blue)  to draw vertical wavy lines with a fine brush for graphics (or a pen for nail design) on one half of each nail.
Prabal gurung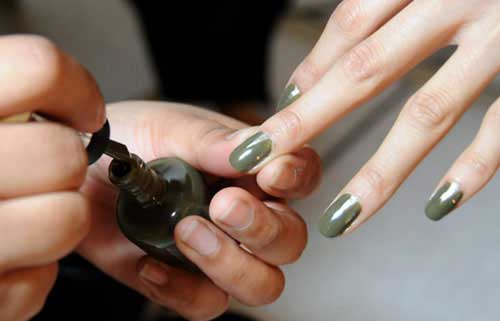 Here one should mention the trick that visually lengthens the nails. On top of the khaki nail polish, you can paint a triangular bar of matt gold. This allows imitating a vertical patch of reflected light in the center of the nail, creating the illusion of long nails.
Libertine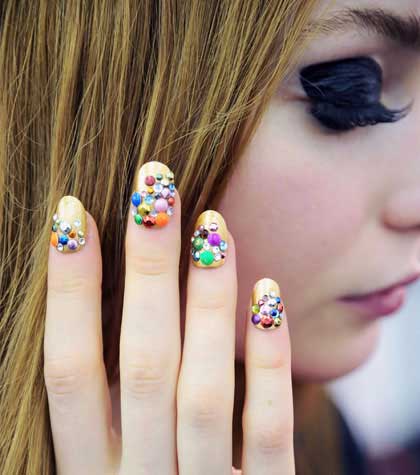 Butter London manicure team was involved in the LIBERTINE show. The result was a dazzling effect with sequins and tiny gems. First, the nails were covered with semi-matt gold nail polish, and then each element of the design was glued with a toothpick.
Jenny packham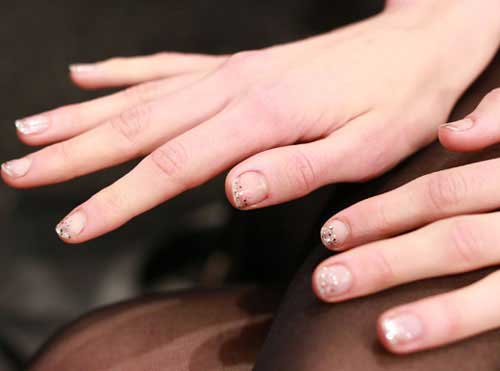 Do you remember about the "new French manicure"? Fringe nail with glitter is one of its interesting varieties.
Alexander wang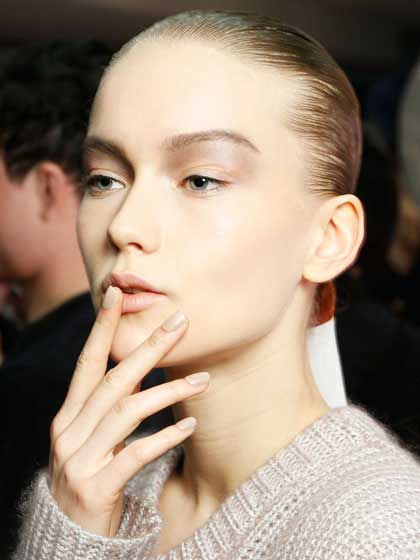 The designer has set a difficult task for the masters of CND manicure – to make androgynous, calm, stable and modern manicure. The result was a very subtle effect of textile nails – as if they were not covered with nail polish, but were made of soft material. The effect was achieved with a soft cloth, which is applied to the slightly dried nail polish.
Oscar De La Renta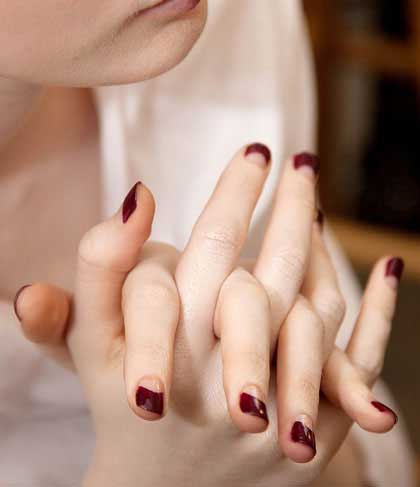 With every new season, the new moon manicure looks more modern. Maybe, this is the style for all time? This design can be applied on top of a bare nail with just a single horizontal line of dark red nail polish.