In October 2013, Essence Metal Glam limited collection will help you easily create a unique image. Bright make-up will attract attention, and gold, silver, bronze, purple, apricot, and metallic green will emphasize individuality.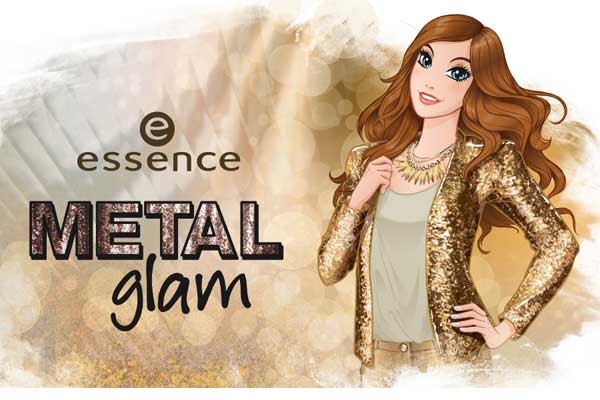 Metal glam collection presents interesting novelties: gold and silver rose eyeliner, blush with an amazing metal overflow and body stickers in the form of jewelry.
Metallic eye shadows with gold pigment, purple and green will help create a stunning makeover. And you will shine like a star!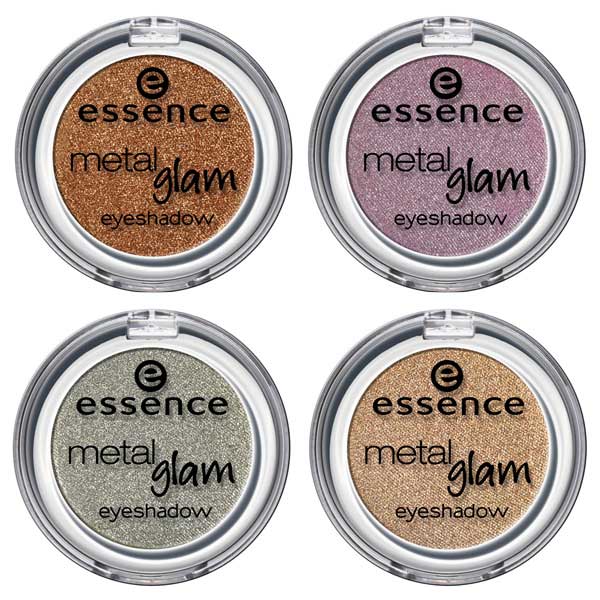 Shades:
01 steel-ing the scene,
02 petal to the metal,
03 glamour girls,
04 golden eye.
Any eyeliner looks attractive, but the essence metal glam stickers will make you the queen of the evening! The glue included into the package allows to use these silver and gold stickers several times.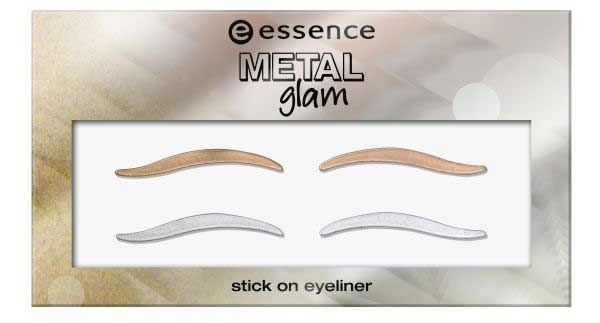 The new products from the Metal Glam collection will make your lips shine with purple, maroon, or apricot shades! The combination of color pigments and shining particles create the effect of a metallic shine.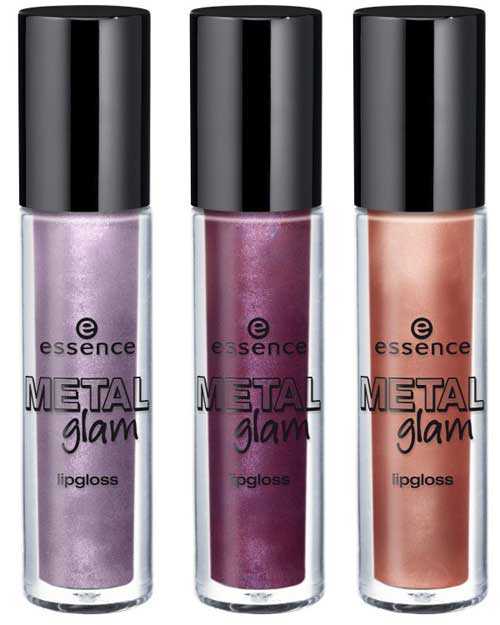 Shades:
01 petal to the metal,
02 best dressed,
03 glam-me.
Shimmering cream blush gently falls on your skin and gives a unique apricot tint and a glowing effect of young healthy skin.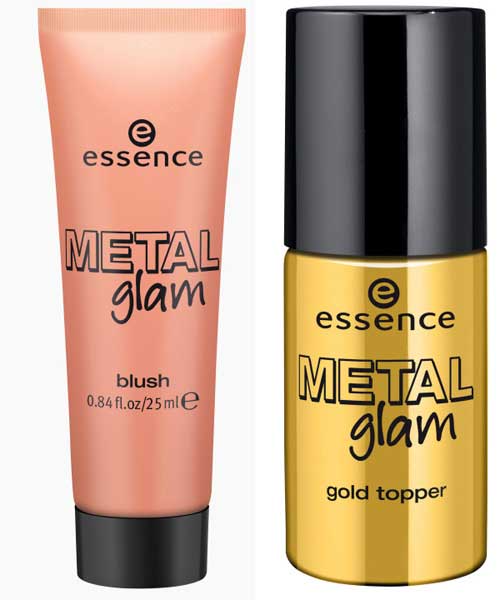 Shade: 01 glam-me.
The white-gold highlighter powder with a soft creamy texture and shiny pigments gives the face a fresh glimmer.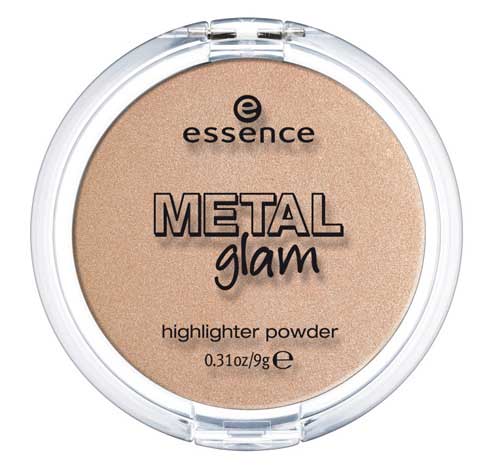 Shade: 01 gold digger.
Creating a metallic effect on nails is not a problem with the Metal Glam Essence collection. Bronze, purple, green, gold – these shades will make your nails the center of attention!
Shades:
01 steel-ing the scene,
02 petal to the metal,
03 glamour girls,
04 gold digger.
Apply the golden nail polish on top of the usual one, and your manicure will become more fashionable and amazing! The nails will shine like a pure gold bar.
Shades: 01 steel-ing the scene.
Copper, aluminum or silver – which one do you choose? These stickers, like a nail polish, cover the nail in one instant and create a fashionable metal effect.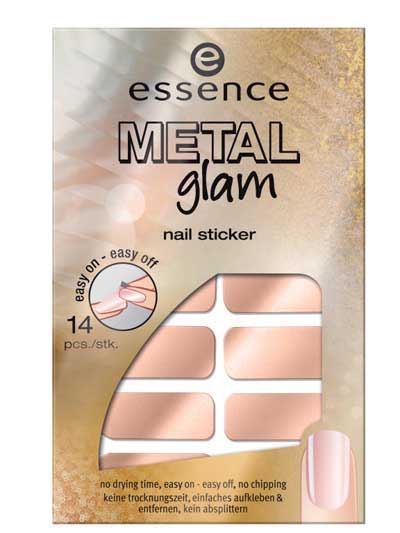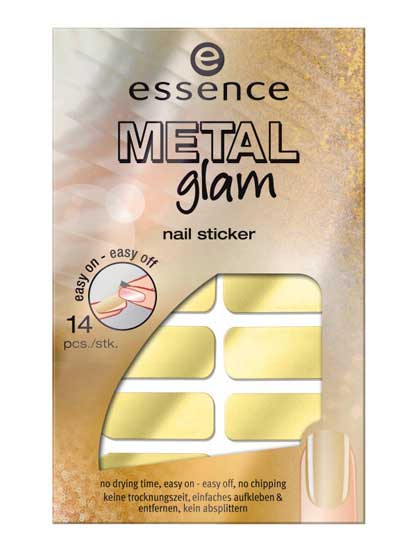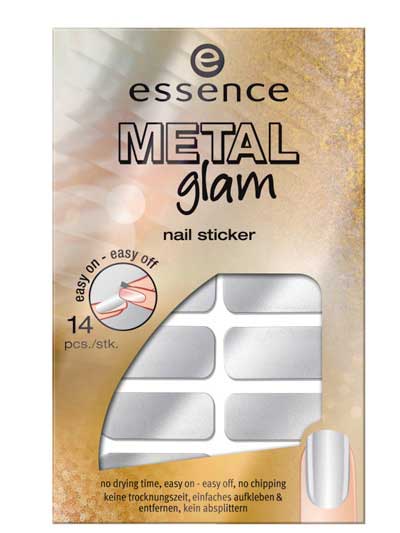 Shades:
01 silver star,
02 she's so glamorous,
03 glam-me.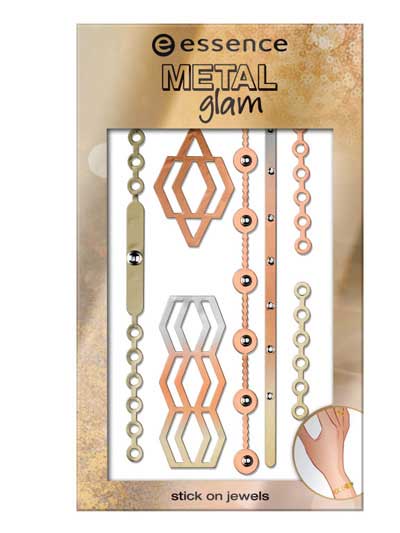 Body stickers perfectly complement the image. Choose silver, gold, or apricot and just glue it to any body part. They look particularly stylish on the arms, legs, and upper chest. Attention guaranteed!