The blogosphere is abuzz over the new trend that is getting popular – duck feet nail manicure. Shall we try? Nails a la "duck feet" is a new form of nails, expanding to their edge and having the shape that looks just like the triangular duck feet.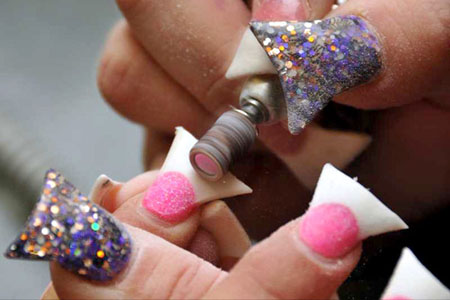 It is difficult to say now who was the first to introduce this novelty. Most likely, it was introduced at a fashion show, but the Internet spread the idea around the world. So even those, who used to be terrified by the new idea, try it.
Nail designers are excited by the new nail trend. The fact is that the area for their masterpieces is now increased, and on one nail you can easily fit 3D-bows, rhinestones and sequins, hand painting, and even a photo.
A wide nail tip resembling a duck foot is created with the help of acrylic extensions. Many experts believe that this shape will very soon be widely accepted. To prove it, they mention the fact that the square shape had also been treated with skepticism at first, but then it quickly found its fans.