White eyebrows, black lips, iridescent eye shadow – it seems fashionistas will have to be more inventive in make-up in the upcoming season than ever before. What surprises should we expect from the world's makeup artists and what to get ready for? We made a review of the hottest and craziest make-up trends that will be relevant this fall!
Magic red lipstick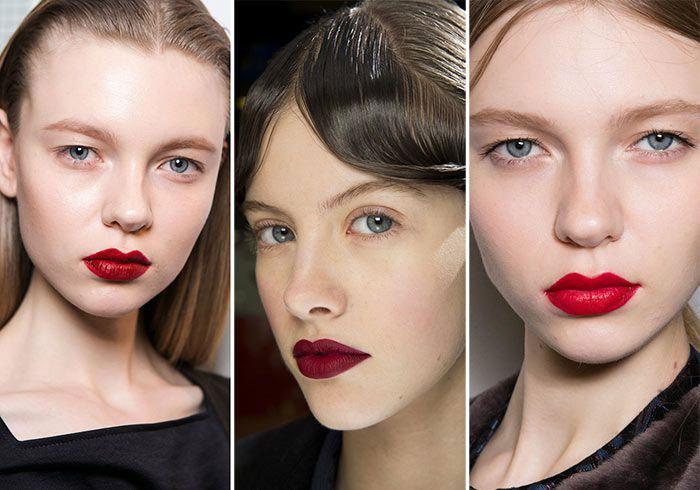 It looks like makeup artists will never fall out of love with red lipstick. These are ideal colors for fall makeup. Many fashion houses recommend mixing multiple colors, while others prefer the classics or experiment with color depth.
A little bit of Gothic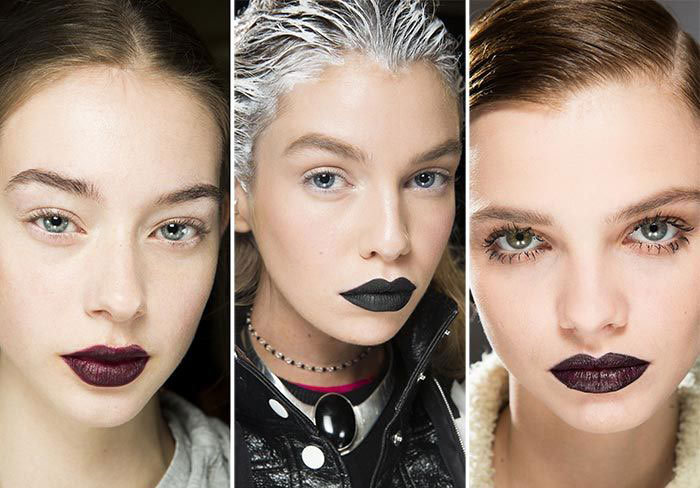 Kim Kardashian and Rihanna love dark shades of lipstick. They can be considered trend setters for blueberry lips. Of course, not every girl will dare to use this gothic accent, but make-up with violet, black or cherry lips will look great in a photo. So this idea may well be used for a photo shoot.
Nude lips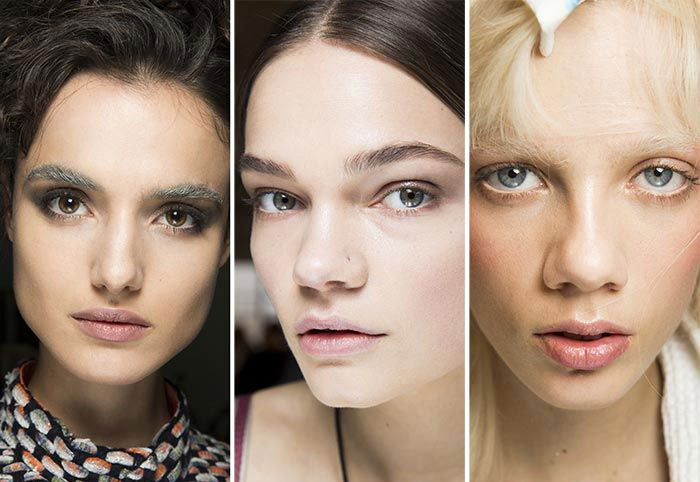 This season, make-up artists are not going to compromise – lips should be either too bright, or completely nude. If you prefer the second option, buy yourself transparent glosses and lipsticks of beige shades. One of the trump cards of such makeup is the chapped lips effect, which can be created using powder.
Orange accent
One of the most striking fall colors is orange. It looks great in the interior, clothes and even makeup. That is why it is recommended to use in eye and lip makeup.
Rainbow on the eyes
All rainbow trends are usually typical of the spring-summer period, but this year makeup artists decided to prolong the warmth in the fall. Therefore, there appeared a trend for bright eye makeup, which uses a large number of bright colors.
Very unusual eye lines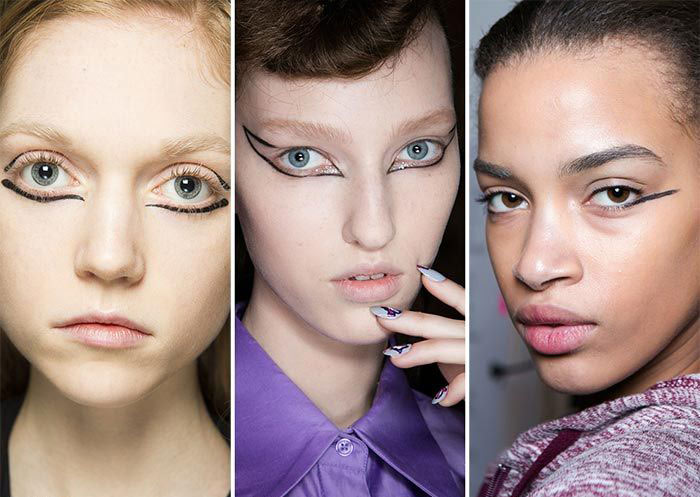 Stylists do not get tired of experimenting with eye lines. They invented all possible variations in the previous seasons. Now, however, it is fashionable to visually increase the eye using eye lines extending far beyond the eyelids.
Golden shimmer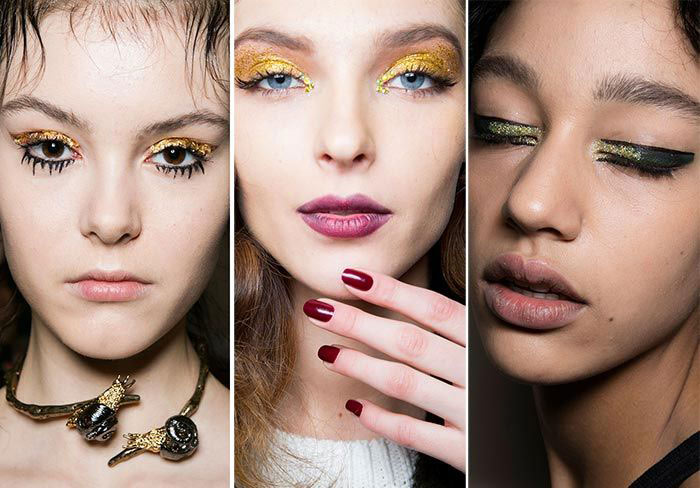 The gold trend is not going to leave the fashion pedestal, and all because it makes fall make-up solemn and beautiful. This time, make-up artists have switched from gold on the lips to focus on the eyes, offering radiant eye shadows and eyeliners.
White eyebrows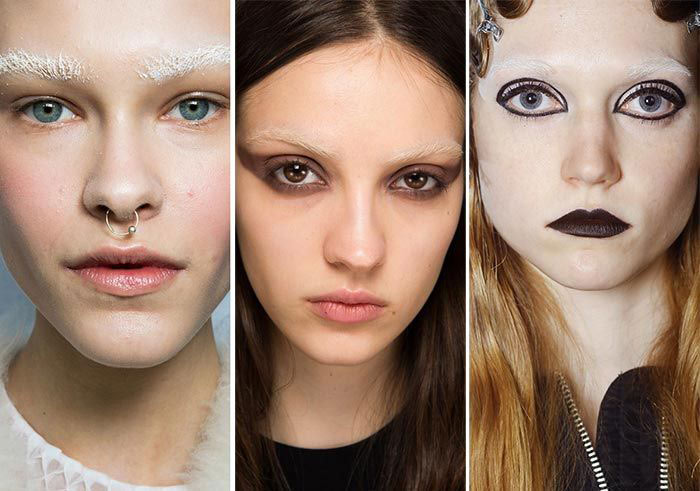 One of the craziest trends of the season is white eyebrows. Not every girl will dare to try it! Make-up artists advise to densely cover the eyebrows with white shadows using a light pen or a special eyebrow gel to achieve the desired effect.
Thick natural eyebrows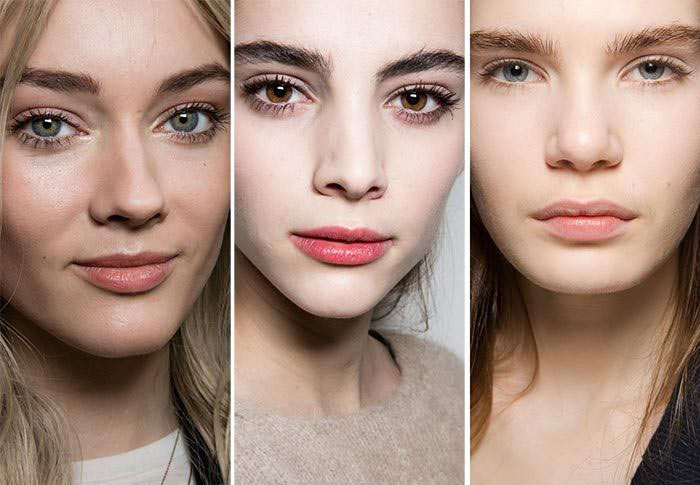 Beautiful thick eyebrows are at the peak of popularity, now it is recommended to brush them upward. At the same time, they must be very thick, healthy and of a natural color. To achieve this effect, you can use special oil mixture for the growth of eyelashes and eyebrows daily.
False eyelashes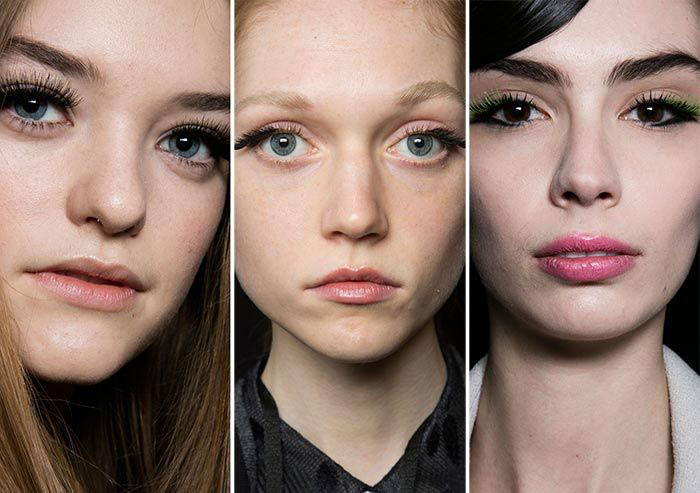 They're back again! Lush, unnaturally thick, and preferably, false eyelashes. Decorative elements like colored hairs and feathers are only welcome.