Caviar has long been considered a sign of luxury. But hardly anyone could think that the generators of fashion ideas would offer to apply something like caviar on the lips and nails!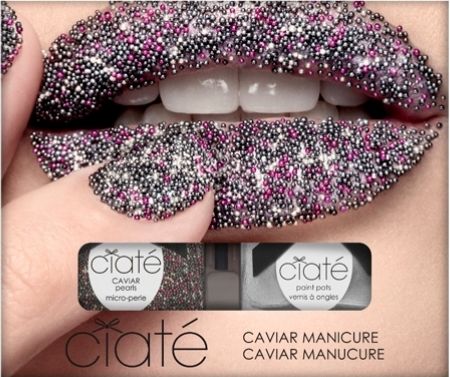 After the successful launch of Caviar Manicure sets in 3 shades, the British Ciate brand has released a collection of Caviar Fall-Winter 2012 nail polishes. In this collection, the attention is drawn to the interplay of shades in each manicure.
Ciate Caviar nail polishes are a truly innovative and ultra-fashionable product in the modern beauty market.
Pretty little pearls, applied over the nail polish base, are sure to attract the attention of others! 3D manicure is the hit of the Fall-Winter 2012 season.
This type of a manicure is the invention of Charlotte Knight, the leading designer of British Ciaté.
Well, dear readers, will you dare to try the trendy new product?