Chanel Le Vernis nail polishes have always attracted careful attention of numerous beauty bloggers. With time, several colors have been selected, and today they are the most desired ones and immediately disappear from the store shelves.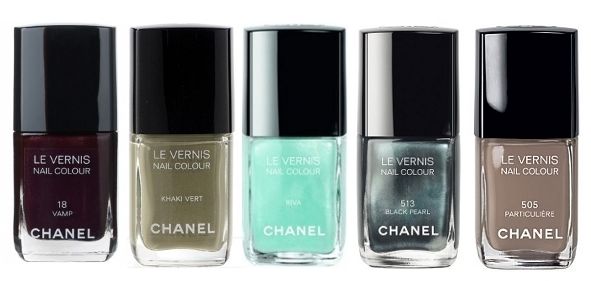 Innovative formulas that provide the effect of resistant coating, a pleasant texture, an unusual variation of fashionable colors – here's what Chanel nail polishes are so admired for.
So, we present you with the top 5 Chanel Le Vernis nail polishes:
Chanel Vamp. A vintage deep berry shade with a slight shimmer.
Chanel Khaki Vert. Fall 2010. A khaki-colored nail polish with a gray hue and yellowish midtone.
Chanel Riva. Fall 2010. A pastel blue shade with shiny particles, which evokes associations with a light breeze on a tropical island.
Chanel Black Pearl. Spring 2011. A mixture of black and turquoise with a silver metallic color and a splash of green and blue micro-Shimmer.
Chanel Particuliere. Winter 2009. A nail polish of a neutral color, suitable to any image. Gray-brown.
And what is your favorite color of a nail polish?