The attention of our readers is drawn to stunning and incredibly relevant ideas about trendy manicure. Many women surely want to design their nails in one of the styles represented here. Watch and enjoy the work of professional designers.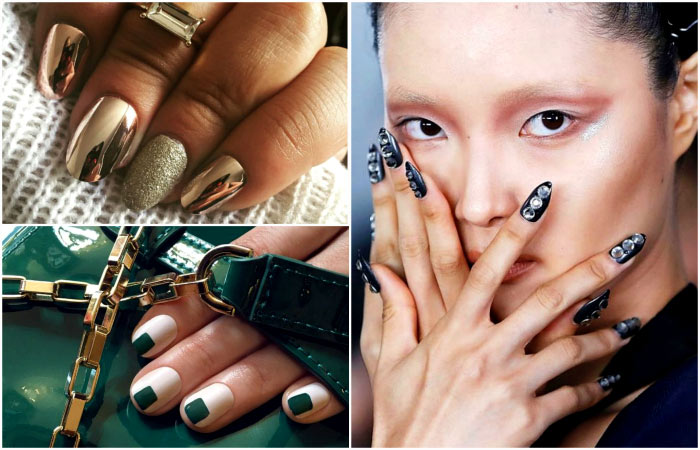 1. A strip of gold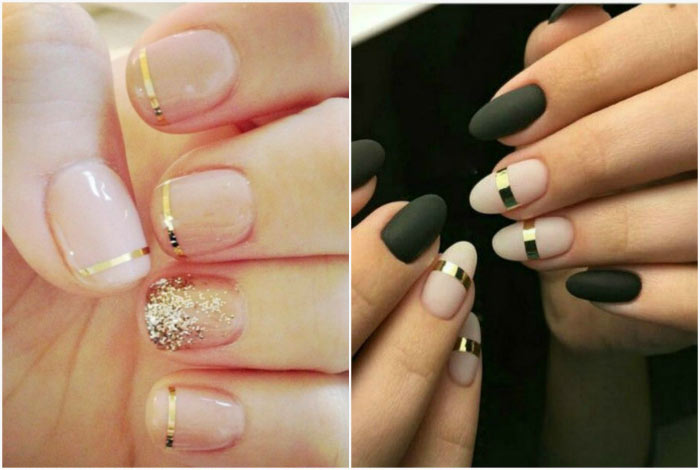 In the new season, it will be very popular to use a simple and elegant style of nude manicure with golden strips, which can decorate all the nails or highlight a few of them.
2. Hollywood manicure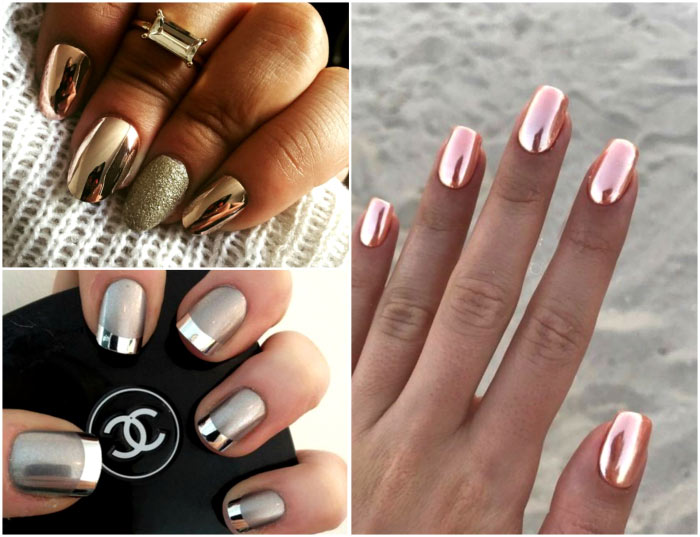 Mirror, or Hollywood, manicure that imitates smooth metallic nail coating is still in fashion. This special mirror coating can be applied over the entire nail surface, or just on the tips or lunula.
3. Large rhinestones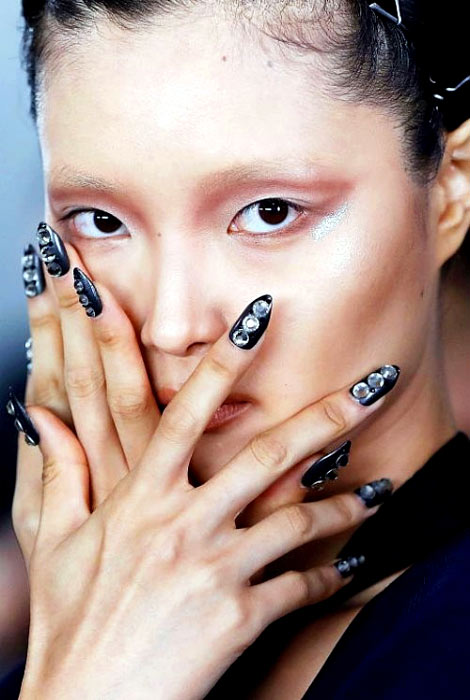 Nails, decorated with large crystals, are a new trend borrowed from the fashion week in New York.
4. Pop art images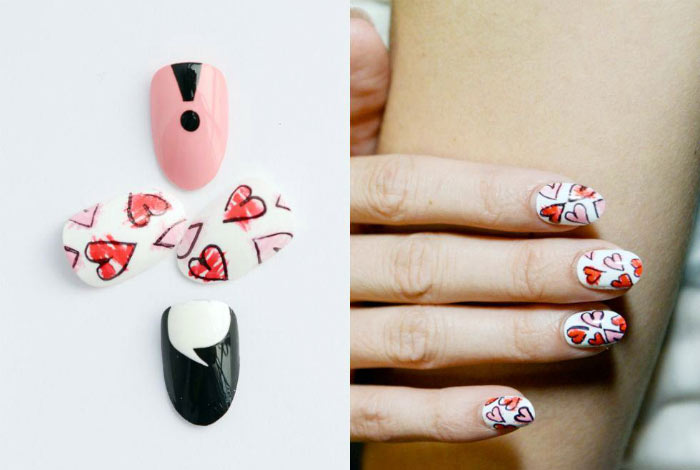 Another unexpected discovery, the manicure in pop art style, was made at the fashion week in New York. Therefore, all kinds of hearts, exclamation marks and question marks, cartoon characters and comic stories are at the peak of popularity.
5. Matte finish coating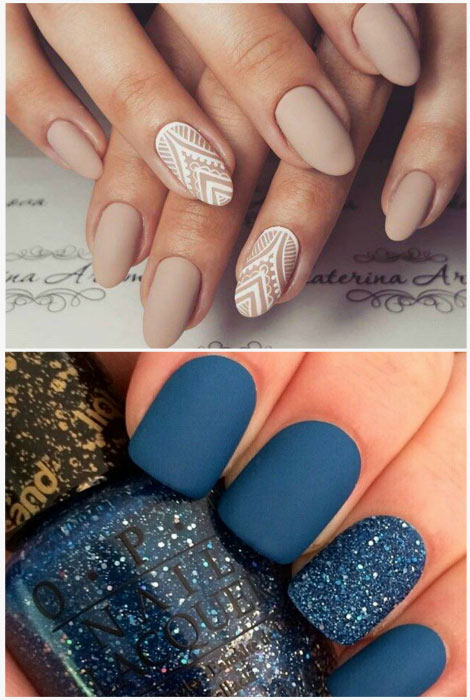 Different versions of nail design with matte finish or powder are still fashionable and will become even more popular.
6. Double-sided manicure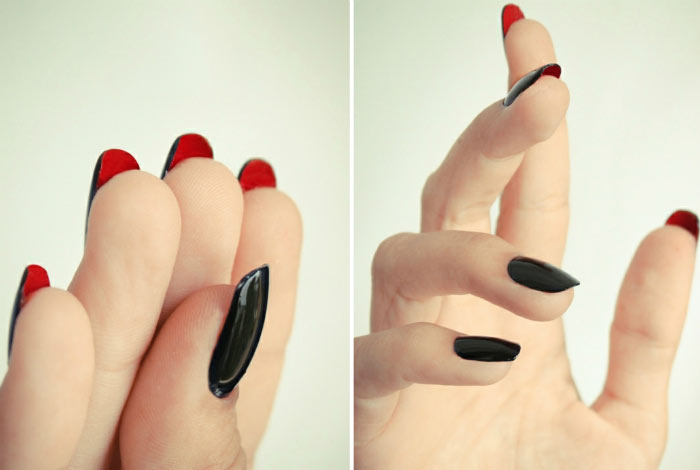 Unexpected double-sided manicure in the style of Christian Louboutin is gaining popularity this year. The outer side of the nail plate is covered in black, beige or silver colors, and the inner tip of the nail is covered with red nail polish.
7. Cubism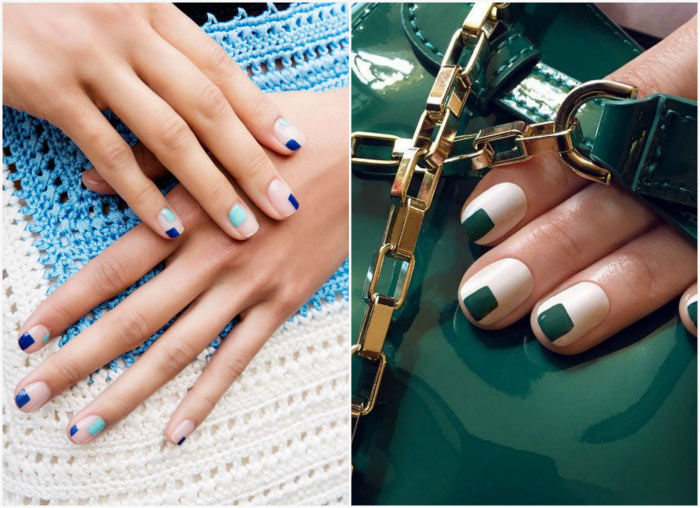 The world-famous master of manicure Alicia Torello suggests that all women of fashion should pay attention to quite a loud minimalistic cubic nail design this year.
8. Variegated manicure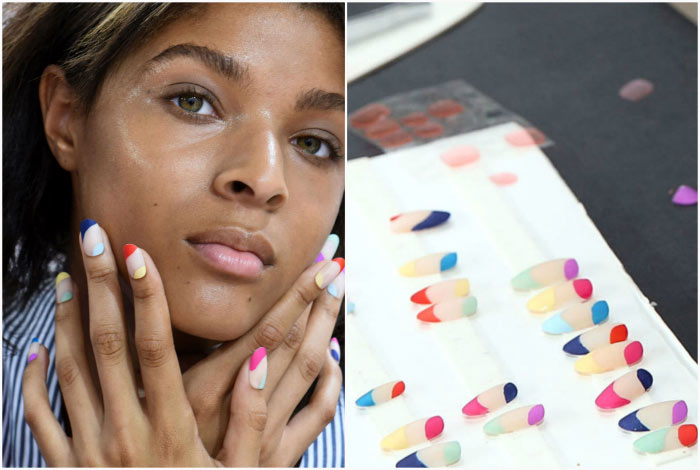 Fans of bright solutions will for sure admire the idea of a combination of variegated shades with neutral nude colors.
9. Mixed textures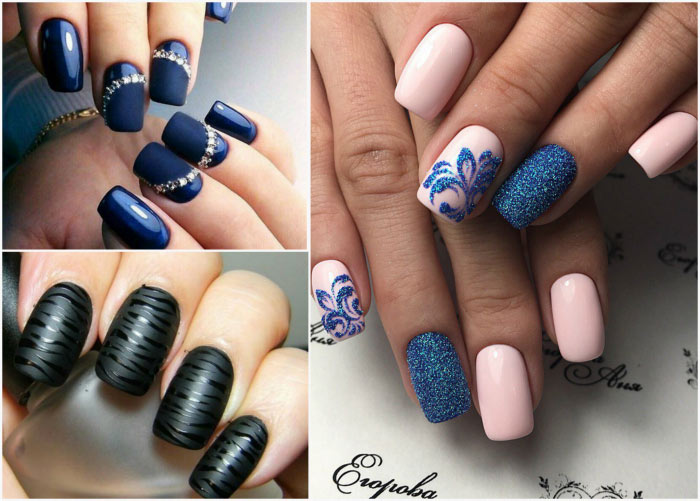 Experts claim that the manicure with a combination of different textures will be very popular this year: matte and gloss, gloss and powder, chrome and gloss.
10. Chic and shine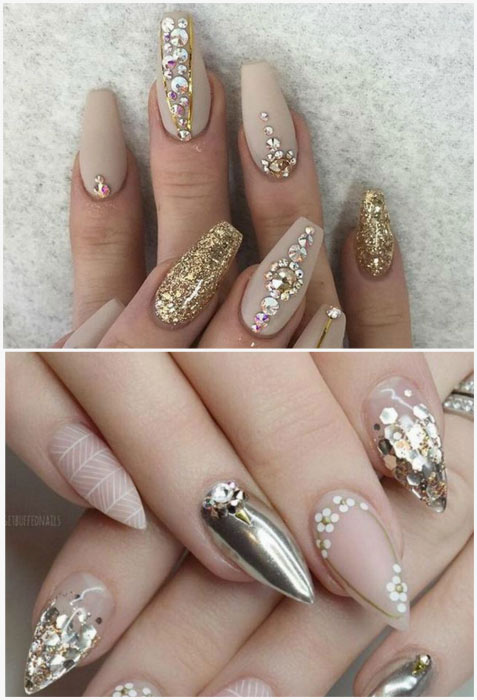 2017 is the best time for fans of shimmering and shiny things. Stylists recommend not to restrain yourself and to actively use sequins, rhinestones and paillettes in manicure. These materials look especially stylish on the uncoated surface of the nail.
11. Eco-style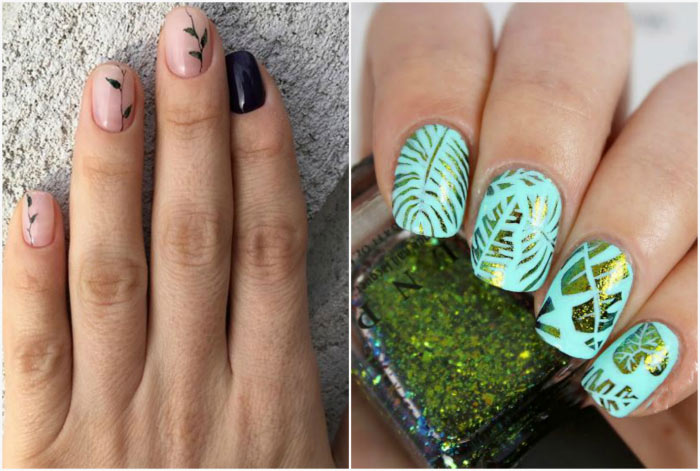 Eco-style has long gone beyond the limits of interior design and finally penetrated into the sphere of nail design. This year, fashionistas will decorate their nails with realistic and concise pictures of leaves, flowers, plants, and trees.
12. Glitter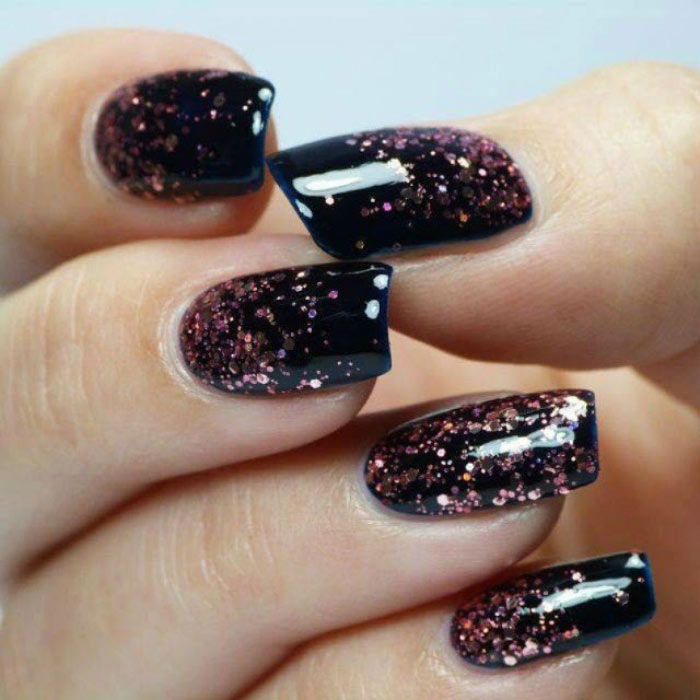 Powdery glitters can turn a boring monotonous manicure into a festive and trendy one. Sparkles on the nails, covered with dark or colorless nail polish, will look particularly impressive.
13. Almond-shaped nails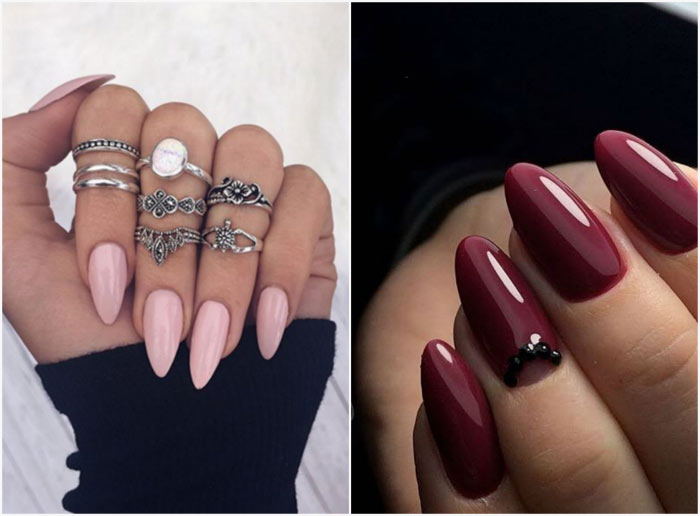 Almond-shaped nails are the main trend this year. According to experts of the beauty industry, nails of this shape look elegant and passionate.
14. Liquid stones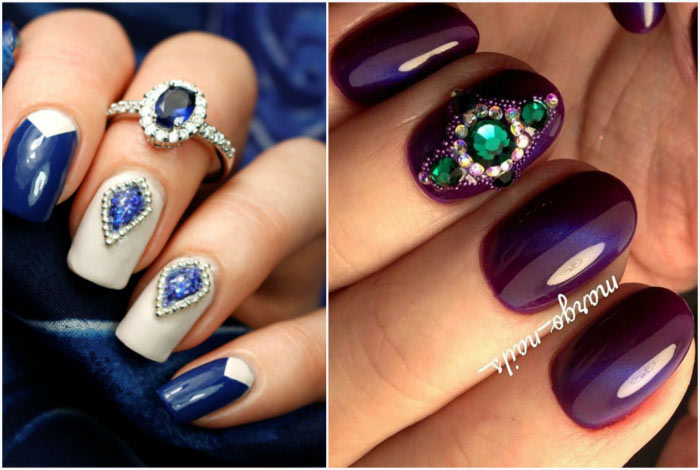 Liquid stones are a revolutionary and trendy technique of casting on nails, which can help you get an imitation of bright volumetric and iridescent stones in different colors and shades.
15. Graphics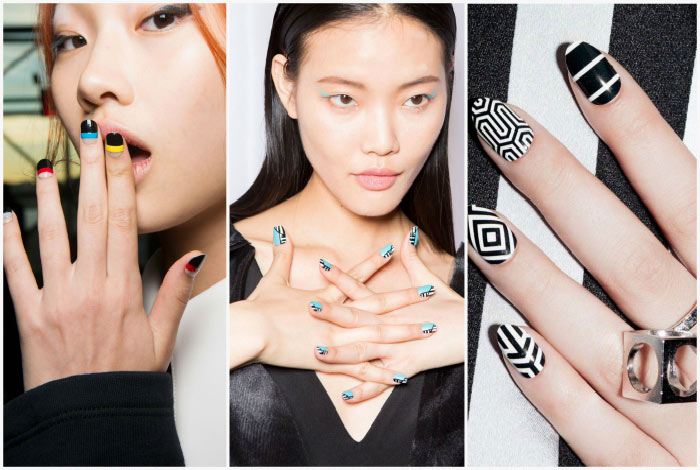 Geometric patterns on the nails could be last year's most popular nail design option. This year, graphic and geometric prints do not lose their popularity and continue to be demanded.
16. French manicure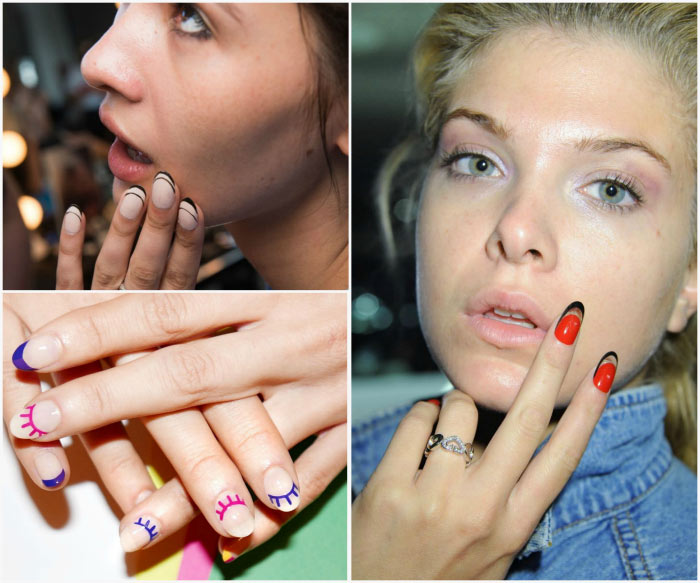 Stylists and fashion experts recommend that all girls should pay attention to bright and bold variants of the classic French manicure this year.
17. Negative space
Manicure with negative space is a relatively recent trend, which has already drawn the attention of many girls. This nail design gives much opportunity for creative experiments and is suitable for both office and evening manicure.