Walk. Stop. Run for your life. That comes to all the information we are accustomed to receive from traffic lights. Maybe that's enough for regulating the crossing, but for those waiting on the curb for the light to change, that's definitely poor entertainment. Besides, some people may not want to waste the precious seconds when there's an excellent opportunity to do your daily workout.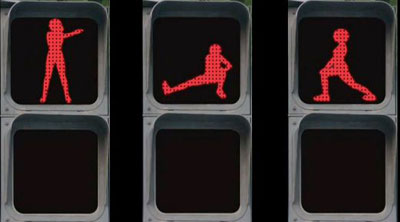 This – or something pretty close to this – must have been the lines along which designer Li Ming was thinking when he was creating new traffic lights for Yanko Design. Since we can hardly be expected to cross streets in this extravagant fashion, it can only mean that curbs will become an extension of gyms. Stretch when you can is the motto. When you are going out for a walk, don't leave your yoga mat behind.
The lights have their practical features, like a countdown timer, but will we see these on the streets or in the gyms where they will tell us when we get on to the next exercise?
Source of the image: Yogadork.