Chances are you either are arranging a party for Halloween, or have been invited to one. If so, cocktails will be one of the main items to consider. Oh, you decided to be so conventional as to go out tricking-or-treating? Then you will get back home in sore need for a really spooky drink or three. Beer or something like jungle juice are always welcome, of course, but those fancy-free who wish for a really atmospheric drinks may be casting round for cocktail recipes. You've come to the right place for that, now choose the most – or less – gross-out ones.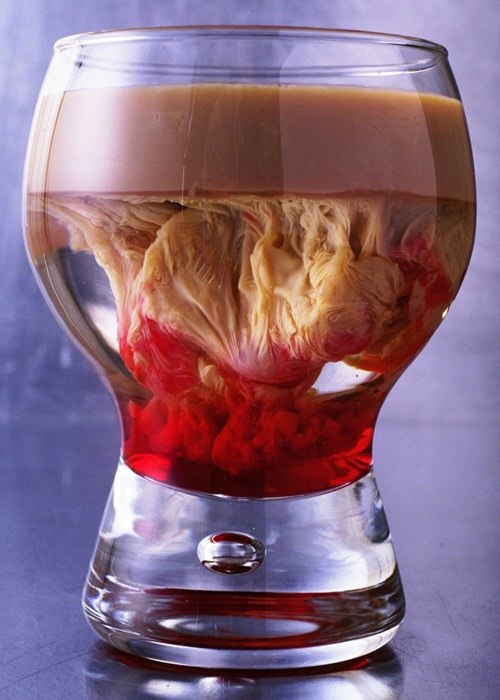 Bloody Brain Shooter
This brain contains vodka and lime juice, with Bailey's for the brain. First you mix vodka and juice, strain, then add Bailey's carefully with a straw trying to achieve the curdled effect. A drop of grenadine won't come amiss.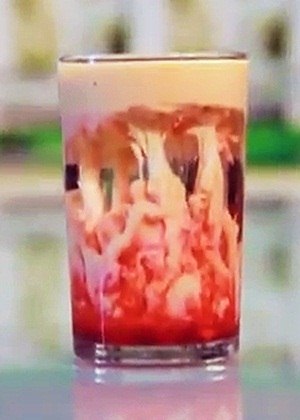 The ingredients:
1 1/4 oz. strawberry vodka
1/8 oz. lime juice
3/4 oz. Bailey's Irish Cream
a few drops of grenadine
Zombie
This one is not new, but still popular, especially on a night like this. You will need two kinds of rum, brandy, lime juice, and grenadine. Shake them up, put some ice into a highball and strain the mixture in. Top it with orange juice, then with Bacardi 151.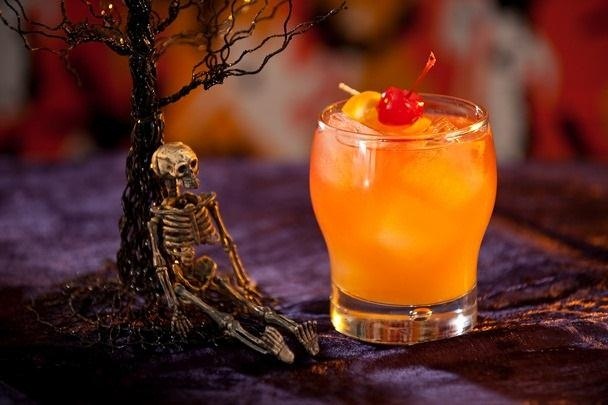 You generally garnish a Zombie with a slice of orange or a cherry, but if you want to add a Halloween touch, there are special eyeball garnish variants.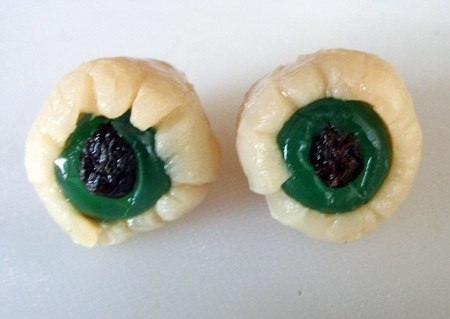 The ingredients:
1 oz. apricot brandy
1 oz. light rum and 1 oz. dark rum
1 oz. lime juice
1 oz. Bacardi 151
orange juice
2 grenadine dashes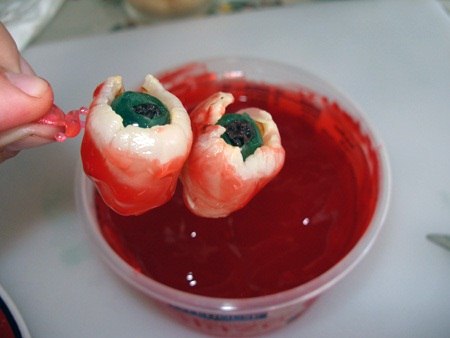 Horny Devil
This is more of a savory stuff if you go for that kind of drink; it is also good to pick you up on the next day, only you will need extra ingredients for it like chili pepper and celery salt. If you take a full bottle of tomato-vegetable juice cocktail, you get 12 cocktails.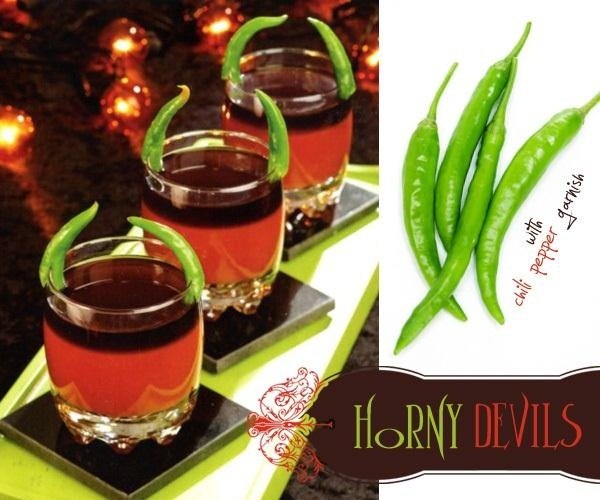 The ingredients for the mixture:
1 bottle (64 oz) tomato-vegetable juice cocktail
1/2 cup lemon juice
1/4 cup Worcestershire sauce
2 tablespoons hot sauce
2 tablespoons celery salt
Fill glasses with the mixture for about three-fourths and top with black vodka (it should float). Garnish with chili peppers.
Vampire's Punch
Here's an excellent one for a party (with the right color, too!) made of grenadine and juices.
The ingredients for the mixture:
18 oz. SKYY infusions cherry
8 oz. lime juice
6 oz. cranberry juice
2.5 oz. grenadine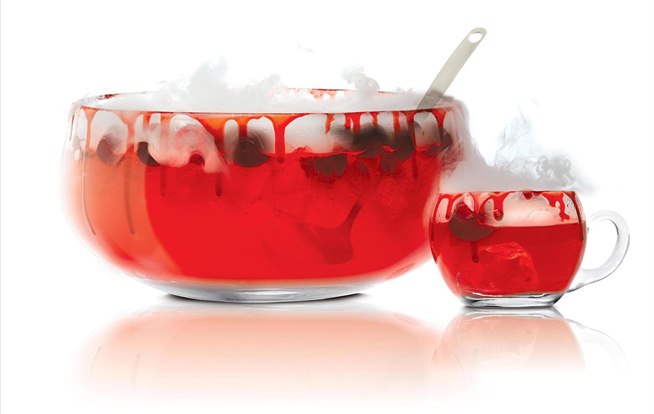 Top the mixture with 7UP and then place a layer of cherries without stones put through a shaker.
Shrunken Heads Punch
This rather ghoulish punch is prepared from wine or cider and lemonade. Actually, you can do without the heads floating in the mixture, if you want to have it less dramatic.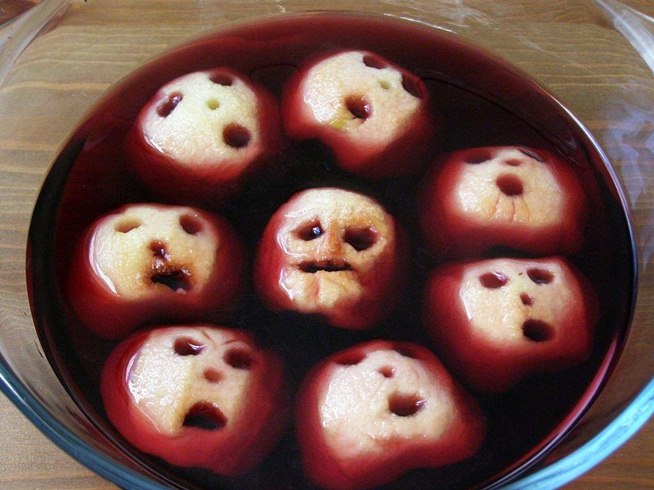 The ingredients for the mixture:
1/2 cup lemon juice
2 tablespoons salt
8 apples
6 cups wine or pasteurized cider
1 concentrate lemonade
Add some ice if you feel like it.
Blood Coctail
This is the one to make if you have little time or don't want to bother. Mix the ingredients and place in the fridge to chill, then just think of a receptacle to suit the occasion.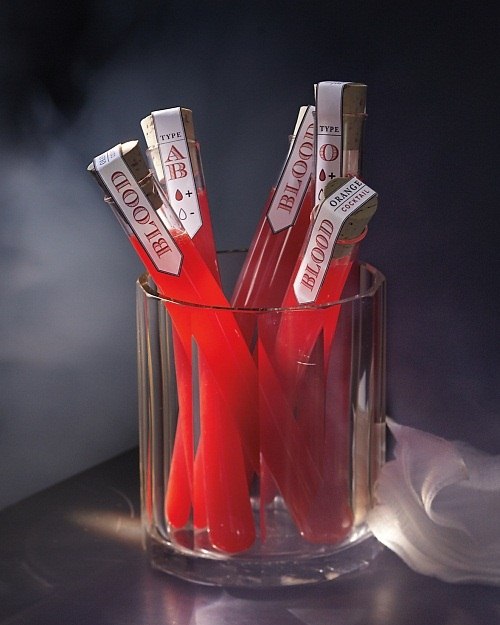 The ingredients:
1 1/2 cups blood-orange juice from 8 blood oranges
6 tablespoons any liqueur that matches the color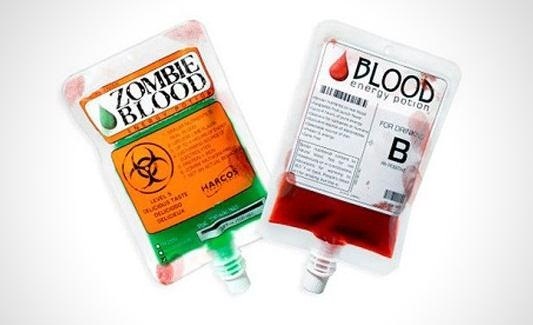 Eyeball Highball
Prepare the eyeballs from radishes and olives, put in highballs and pour over with the drink of vodka and vermouth.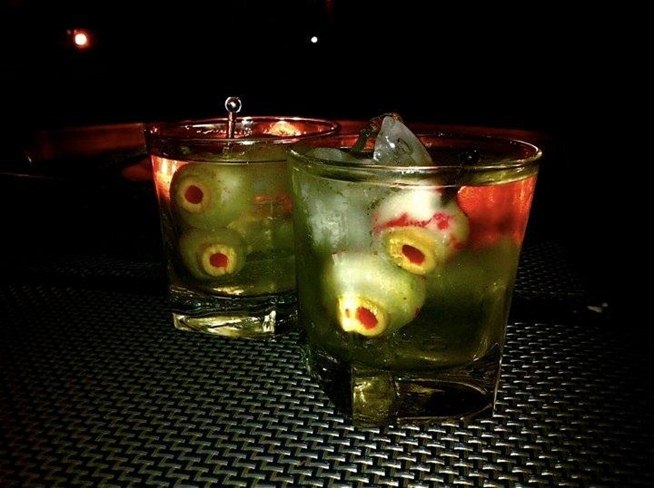 The ingredients:
14 medium radishes
7 pimento-stuffed olives, halved crosswise
16 oz vodka or gin
1 oz dry vermouth
You'll need 14 medium-sized radishes and 7 stuffed and halved olives for the Halloween effect.
Halloween Beer
The trick is not in the beer but in the keg – here's a cool pumpkin keg to add to the festive spirit.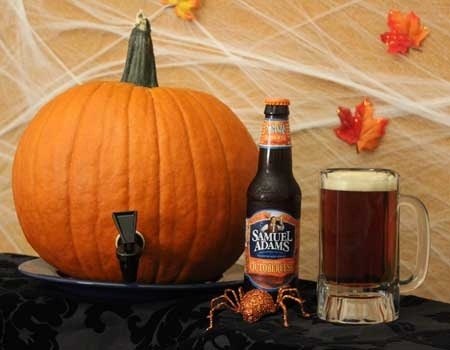 Jello Shots
Treat yourself and your guests to Halloween Jello shots dressed up for the occasion! Some of the ideas include tonic water, which will provide a nice glow in a black light, or produce a brain hemorrhage effect.

Or
just get creative over it and come up with something gruesome enough – the world still needs good cocktail recipes!