Do you remember the time when boys were just running around like crazy for their Video game buddy Mario? Boys and girls were so excited dodging and killing dangerous creatures and plants in the video game. Oh yes, and we cannot forget the great music it had.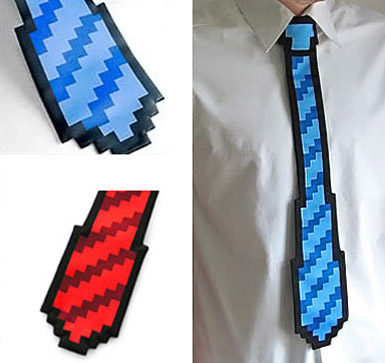 The same memories will surely come to life when you would take a look at the latest 8-bit Tie from ThinkGeek. It comes in striking 2 colors of blue and read. This 8-bit tie is weaved with silky micro-fiber, had the designing done intelligently in pixel format and jaggy edges which compliment the entire look of the 8-bit tie.
This 8-bit tie could be a great gift for your boyfriend or your husband. The great feature of the 8-bit tie is that it could be worn on formal clothing as well as could be sported over a t-shirt. The 8-bit tie has surely got a striking an uncommon look which would grab anyone's attention. And the best feature of the 8-bit tie is that it forms an 8-bit curved triangle knot which does not look out of place.
Every man is a little tech-savvy, and this is a techno-fashionable gift which he would surely adorn.
Source of the image: cubeme.com.