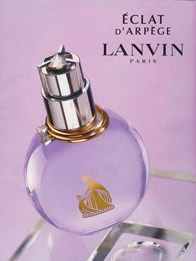 Eclat D'Arpege by Lanvin – did you smell it? This is a sophisticated fruity scent. I have tried lots of perfumes. But I always came back to this one, which has been my favorite for about three years. I told you in some of the recent posts about the new fragrance DKNY Delicious Shine, which I like very much and enjoy. If you want to compare these two fragrances, they are very different. DKNY Delicious Shine, this concentrated apple is flirty and frivolous. Eclat D'Arpege is more serious, more saturated with aroma, this fragrance means femininity itself. Is it sexy? Undoubtedly yes. Is it liked by men? Of course, it turns them on, indeed.
This is a very lasting aroma and when you have just sprayed it, you never feel, like it's too much of it, I mean, it never seems silky sweet, even at the beginning. You don't need to get accustomed to Eclat D'Arpege, you love it from the very first smell. As for me, I love everything in it.
I highly recommend it, as I use it myself and everybody who smelled it, admired it. I also use Eclat D'Arpege perfumed body lotion of the same name, which smells extremely pleasant, too. The fragrance is a blend of Sicilian Lemon Leaves, Lilac Green, Wisteria Flowers, Green Tea Flowers, Peach Flowers, Red Peony, White Cedar of Lebanon, Musk and Amber. As for the price, 3,4 oz Eau De Parfum Spray costs about $34-$40. It's really worth.