Back in 2007, supermodel Kate Moss released her first branded perfume. Since then, the fragrance changes every year by getting an updated composition , new package design, and a new name. This year we will be welcoming the new Love Blossoms – a fragrance filled with love and flowers. What product release could be a better match for Kate's wedding?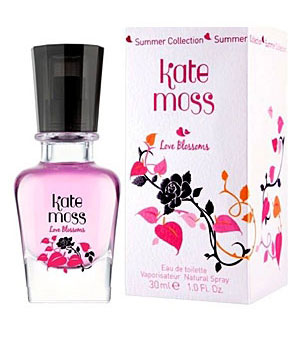 Love Blossoms- a typical spring release product filled with romance and light fragrance. It delivers the atmosphere of freshness, blooming flowers, greenery, and gives a calming sense of love and hope.
The fragrance is light and floral. Concentration- eau de toilette (30ml).
The composition opens with spices, pink peppercorn, peach nectar, and mountain lily. The "heart" of the composition captures a floral bouquet of Egyptian jasmine, peony, and mandarin. Finally, the sensual base delivers warm notes of patchouli, white musk, and vanilla sorbet.
Source of the image: Fashionison.