Chloe is going to launch L'Eau de Chloe in February 2012. This is a new light and refreshing version of the original perfume Chloe Eau de Parfum, produced in 2008. The fragrance L'Eau de Chloe is advertised as fresh, citrus, and chypre-floral.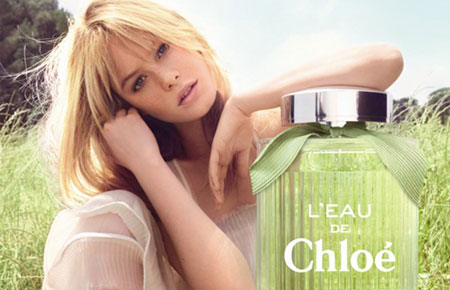 Fragrance L'Eau de Chloe is designed for the spring and summer season. It opens with a refreshing lemonade of citrus notes, continues with the "heart" of the feminine notes of rose petals and rose water, and warms the skin with elegant base notes of patchouli.
The novelty comes in a bottle, typical for Chloe fragrances, its color is mint green. The bottle is decorated with a silver lid and a bright green ribbon.
The face of the fragrance is the model Camilla Rowe-Poucheress, and Mario Sorrenti is one of the photographers. He became famous in 2011 being entrusted to release the famous Pirelli calendar.
The fragrance of L'Eau de Chloe comes in the form of Eau de toilette bottled as 30, 50 and 100 ml.