Karl Lagerfeld is a versatile person, known – apart from his fashion world renown – as a devoted bibliophile with a home library that requires a high ladder to look through. The owner of over 300,000 books also owns and manages a Paris-based publishing company (Edition 7L) and a bookstore, 7L, located on the Rue Lille.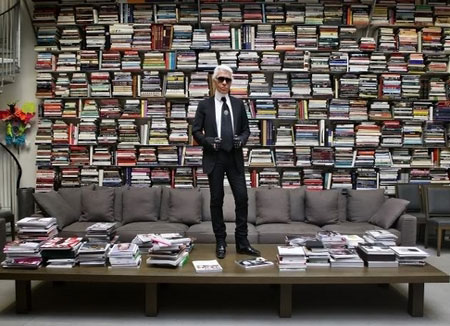 Since every book lover delights in the smell of a new book, Lagerfeld resolved to take the idea further afield and called in German perfumer Geza Schön to work out a fragrance that will evoke the scent of a freshly-printed page!
Dubbed Paper Passion, the breakthrough scent – that is also rumored to carry a fatty whiff – will be sold in a hardcover edition… Sorry, packaged to look like a hardcover book. The "cover" design rests with the Edition 7L collaborators, Lagerfeld and Gerhard Steidl.
The concept is yet nowhere near its completion, and we can only hope that the bookshop fragrance will smell pleasantly fresh not for book lovers solely.
Source of the image: Stylecaster.