We are expecting a very interesting item in September 2012. The House of Balenciaga in collaboration with Coty Prestige and IFF designed a new Florabotanica fragrance for youth. The novelty attracts us with an unusual composition and a modern, dynamic design of the bottle.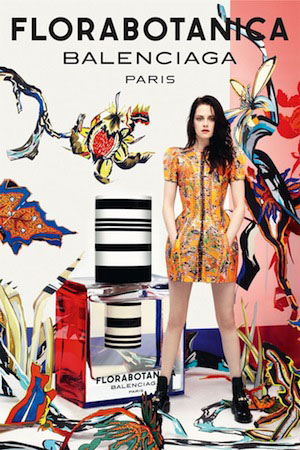 The new BALENCIAGA FLORABOTANICA fragrance consists of mint, clove, rose, green leaves, amber and vetiver notes.
The face of the fragrance is the young actress Kristen Stewart. The advertisement uses famous floral prints by Balenciaga fashion house.
The fragrance will come in the form of EDP (30, 50 and 100 ml). Body products – a lotion and a shower gel – are also expected.
In September 2012 the fragrance will premiere in the U.S., Canada and France. In October you can expect it on the shelves in Italy, Russia and Spain. In November it will premier in Australia, Germany and Benelux countries. By the end of the year, the fragrance will be sold all over the world (more than 5000 retail outlets).