Justin Bieber is the one sure to keep the younger female population of the world titillated. The thing is he does it in different ways, the latest of which is olfactory. The perfume to be launched by Bieber this summer is called Someday, carrying a haunting smell of the promise of a rosy future that awaits us somewhere in the folds of gray days to come… But as to what can be said of Someday now.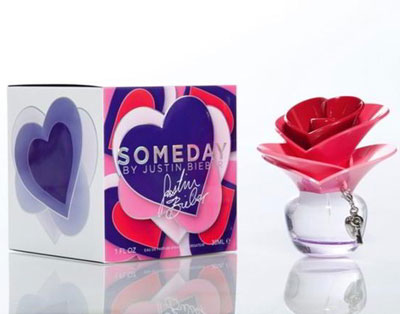 The perfume's description speaks of an exquisitely fruity smell, that is, our teenage Beliebers will be looking especially fresh with all those whiffs of citrus, berries and flowers hovering around them like invisible petals.
According to Women's Wear Daily, Someday will go on sale in quite a number of stores including Dillard's, Macy's, Ulta, Belk, Sephora, Nordstrom and some less well-known ones. It will be available in a 1 oz. bottle for $35, a 1.7 oz. bottle for $45 and a 3.4 oz bottle for $55, with a nice throw-in of a $20 hair mist and a $25 body lotion. A part of the proceeds will go to enrich the funds of the charities patronized by the singer, like the Make-A-Wish foundation and the school construction organization Pencils of Promise.
The bottles of Someday, adorned by a sprinkling of plastic heart flowers, pick up just where the design of Marc Jacobs' Lola bottles left off. Terry Richardson has done a good job of work on the print ad shot that features Dree Hemingway, and Robert Lee directed the TV commercial that will come out on Black Friday after Thanksgiving and run for the rest of the year. The commercial depicts the inside of a Boeing 737 NASA training jet cabin where gravity is excluded.
Bieber's perfume hits the stores a little later this month, and if you want to go and get a bottle, you will be well advised to expect a stampede.
Source of the image: Aceshowbiz.