The famous German supermodel Heidi Klum has signed a contract with Coty. This fragrance company will assist Heidi in creating and producing her first fragrance. The name has been already invented – "Shine". Its premiere has been set for September, 2011.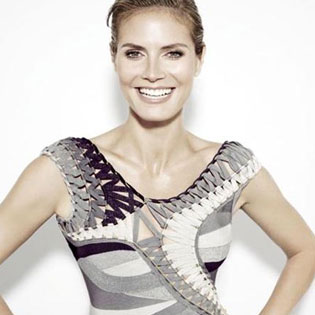 Last year Heidi Klum dissolved a contract with the global brand Victoria's Secret. She is no longer "Victoria's Secret Angel", but she has got time for lots of new projects. This is despite the fact that she is the mother of four children! Creating a personal fragrance is one of the long-awaited beauty-news from Klum.
Heidi holds a unique position in the market, Steve Mormoris, the senior marketing vice-president in Coty Beauty, says in an interview for WWD. She is not only a supermodel and a celebrity, he adds. Heidi is an excellent businesswoman with multifaceted interests. And Coty Beauty is planning to create a fragrance that will reflect all sides of her talent.
The fragrance Shine is announced warm and universal.
The company is in prospect of a thrilling intrigue: what the bottle will be like, what advertising campaign is expected – all this is still to learn.
Coty Beauty produces fragrances for most of the world's celebrities.
Source of the image: Fadedyouthblog.