Last spring the fashion world was shocked by the news that Brad Pitt would become the face of the legendary Chanel #5 fragrance: it is an incredible situation, for it is the first time the brand invited a man to advertise a women's fragrance!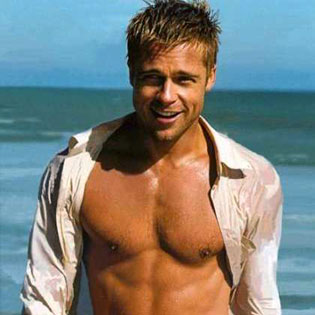 One could wonder what for and why, but there would be no response, and in recent months we had to be satisfied with just a few pictures from the shoot. Finally, the long-awaited commercial appeared in the network. It was directed by Joe Wright (the director of "Anna Karenina"), while Sam Taylor-Wood was the photographer (the wife of Aaron Johnson, who performed the role of Vronsky).
The video depicts Brad Pitt talking about eternal things. He confesses:
"Wherever I go, there you are. My luck, my fate, my fortune … inevitable."
And it's not about Angelina, but – just imagine! – about the fragrance. The actor stressed that he was extremely happy to collaborate with the famous brand (the seven-million fee could have produced its effect as well):
"What's important to remember about Chanel # 5 is how revolutionary this fragrance is; when it was introduced, it broke all the rules. # 5 has always been the most iconic women's fragrance. That's what I see being the appeal of this campaign; it goes beyond the abstract of emotion or beauty to evoke what is timeless: a woman's spirit. "
We sincerely hope that this collaboration will have the desired result for Chanel as well. But after watching the video, our editors split into two groups: those who said "wow" and the ones who said "WTF". Knowing the originality of the fragrance, one can hardly hope that it will become much more popular after the video with Brad Pitt, no matter how sacrosanct his personality is. In any case, such videos are a phenomenon rather than a common practice.
Update: Here's the part two of the commercial: