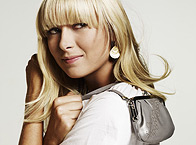 The list of the celebrities occupied with designing is growing daily. Kate Moss is releasing dresses, Misha Barton – bags, Dita Von Teese – underwear. Today it seems that this passion for design did not give women athletes a wide berth. Maria Sharapova had designed a collection of accessories for Sony Ericsson cell phones.
Maria Sharapova, a professional Russian tennis player and socialite, last week presented her first collection of accessories for a giant of the cell phone industry, Sony Ericsson. On the runway were presented a cell phone cover for tennis court, a compact cover for training, a bag for parties and a travel purse from the Maria Sharapova's collection. According to the press, it was a successful collection and a good start-up for a beginner designer, though some help from the professionals was not omitted.
"Style, fashion and glamour – these are the things that people need. I am sure that they will like my collection" – commented Maria on this collaboration. Below you can see what Maria has created.