Hermaphroditism continues to march on the catwalk, turning men into beautiful divas, and changing the latter into men. This time, Saskia de Brauw "blossomed" with a masculine beauty. The Brazilian fashion model became the main character of the advertising campaign of Saint Laurent men's spring-summer 2013 collection.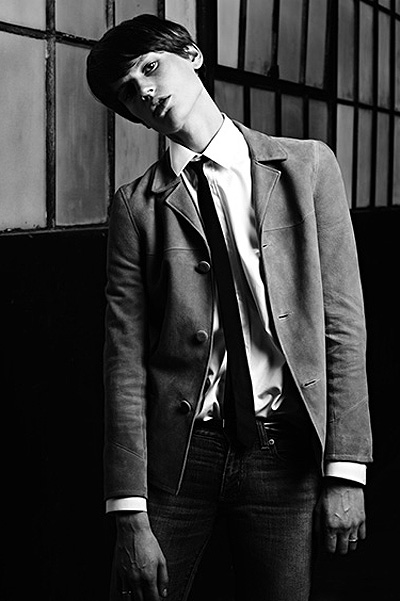 The author of Saskia de Brauw's reincarnation into a sample of male elegance is the creative director of the fashion house Hedi Slimane, who was the photographer of the advertising campaign. The result is quite convincing!
After the September fashion week, we have already raised the theme of exchanging places of male and female models in the fashion world, who are performing the role of each other more and more often before the camera and on the catwalk.
Another model, who played a man, is a sensation of the last few days and the continuation of the idea. Here we mean Casey Legler from Manhattan (the heated discussion of the new person in the world of fashion was started even in blogs). She appeared among the male faces of the Ford modeling agency. Her friend, the photographer, asked the girl to "play a man" for fun during the shooting of the Muse magazine… and so it all started!
Who would have thought that an innocent fun will lead to a contract with Ford, where Casey would join male models. The heroine does not feel bothered about the new role.
According to Casey Legler, there are no more female models, acting solely as male models. In this case, she is sure of herself. The girl admits she looks great in feminine dresses and high-heeled shoes, but she also does not mind experimenting with men's images.
In general, hermaphroditism is not a new trend in the fashion world. It feels pretty confident during its long life on the catwalk. The face of this "religion" is, of course, Andrej Pejic.
Casey's determination inspires, and Saskia de Brauw is quite organic as a dandy. Still, there is one thing: are we going in the right direction? Can Casey Legler's speech dispel our doubts?