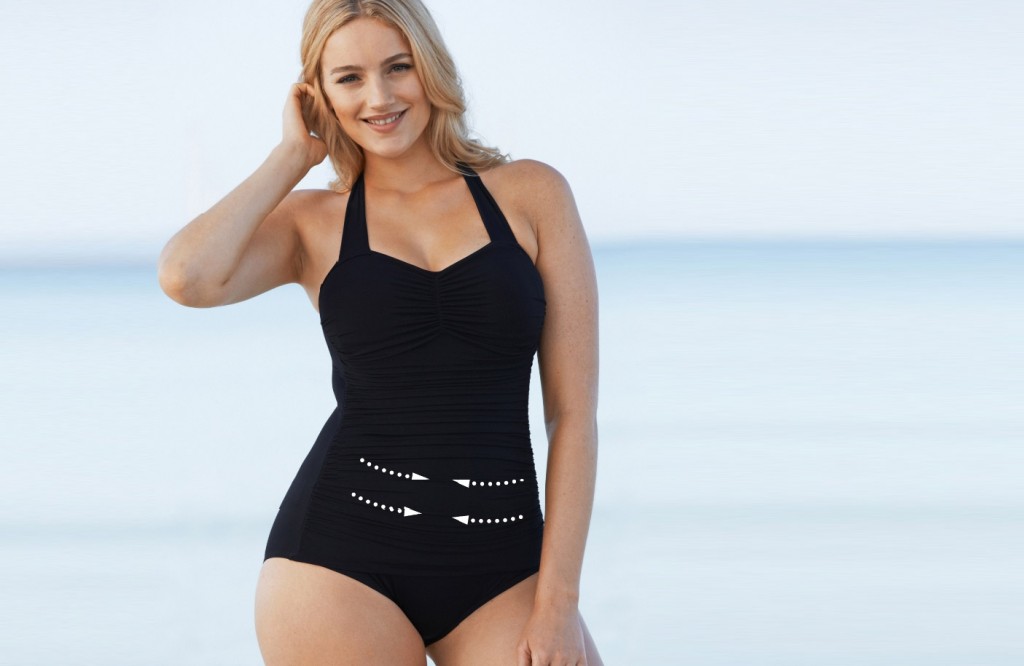 Fabulous doesn't just grow on trees, and being a curvaceous woman is not for the faint of heart. While society continues to try to convince you that being bodacious is a burden, you know that the only thing standing between you and the perfect appearance is the right swimsuit.
Plus-sized swimwear often leaves much to be desired, from boring cuts and plain solids to predictable patterns and frills. Your body is a temple, and a bad coat of paint will not do it justice. Fortunately, plus-size fashion has gotten a face-lift in recent years and with a few simple considerations for your body type, you can have popular society swallowing its words.
For a Beautiful Pear Shape
When it comes to women's bodies, the pear is always in season. This curvaceous body type covers women who consider their assets focused on the southern part of their body, with little balance between their top and bottom.
To offer balance to your body and draw the eyes upwards, try a reverse ombre swimsuit, or any swimsuit that focuses dark colors towards the bottom and lighter colors towards the top. Accessories and bright patterns on the top part of your swimsuit will also help you in this regard. The key is to reduce the larger lower part of your body by maximizing the top part.
Always stay away from horizontal stripes and known size-enhancing colors (white, red) down south when you are searching for swimsuits and remember, solids will only draw more attention to your lower portions.
For the Top Gifted Woman
If your assets rest a little closer to your heart, you have completely different considerations when it comes to choosing a fierce swimsuit for the season. In some suits, one wrong move has potential to garner unwanted attention, and leave you feeling overexposed.
Taking the focus off your chest is key if you want to flatter your shape as much as possible (you're not trying to hide them, just outfit them). A pattern with different color gradients and trendy features away from your chest will do the trick. Oprah suggests a straight-cut skirt suit for moving focus away from your upper body.
While strapless, and might-as-well-be-strapless, looks are tempting, you should note that you will not look sexy if you don't feel sexy. Stick with support and you will radiate confidence.
For the Sexy Figure Eight
Women in this category have it all. They received generous helpings of the voluptuous gene pool and strut their assets confidently with the help of a swimsuit that accentuates their middle. Your waist will almost seem like an optical illusion when you impress in an accessorized swimsuit. You should look for belted styles, with interesting beading, or fabulous brooches (I know the word seems a little ancient, but trust us). Fun, sparkly features in the middle will give your blessings a break from the spotlight and keep you self-assured poolside.
Try to avoid drawing too much attention to either the top or the bottom of your body; you don't want your look to overwhelm the eyes. Balance is key here.
For the Evenly Distributed Beach Goddess
If your body enjoys an even balance, creating curves will increase your confidence. Your focus is not on minimizing or maximizing any particular region, so many of the rules need not apply. Interesting patterns are a must and adding details around the waist can add a fun edge to your look. Color block suits or suits that feature color gradients will help break up your body and add curves to your figure.
All guidance and rules aside, the key to enjoying your time in the sun and keeping your confidence level up is feeling comfortable and sexy in your swimsuit of choice. Choosing swimsuits from a website that focuses on the plus-sized woman, like Simply Be will put you in a suit that understands your body and helps your inner goddess shine. Approach swimsuit shopping informed about your body type and with a fun attitude, and you will undoubtedly find a suit that you won't ever want to take off.