Despite the absence of John Galliano at the head of his own brand for almost two years, the John Galliano brand, founded by the designer, continues to evolve.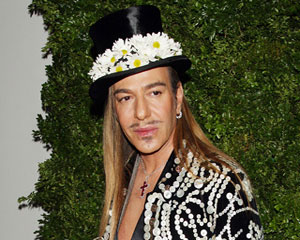 Since then, the brand has developed a new Galliano Gazette web site, which offers more and more versions of dismissal of the brand's "founding father". Meanwhile, the new creative director may possibly lose the attribute "new" in the near future. Bill Gaytten has celebrated one and a half years of work without John Galliano, whom the designer had been assisting for 23 years, and presented his third author's collection for the brand. But the collection "without Galliano" is still something strange to hear.
So, "John Galliano without Galliano" spring-summer 2013 collection includes "crumpled" fabrics, tulip silhouettes, wide-brimmed hats of layered organza, bat silhouettes and loose cape jackets. However, Bill Gaytten still fails to avoid comparison with his predecessor. The idea "without Galliano" proves to be too strong in this collection. It might lack dramatism or histrionic features – in short, it is a "without Galliano" collection.