The season of Men's Fashion Weeks has demonstrated that the designers sometimes present very extravagant ideas, trying to come up with something new in a fairly conservative category of men's clothing.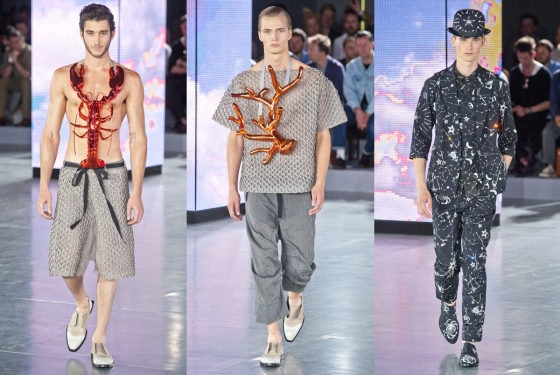 According to the latest collections, the Italians were the first to cause a stir: Versace suggests trying on pink sleeveless shirts for men or huge "Gladiator" belts, while Giorgio Armani suggests wearing a white jacket with short white shorts. Christopher Bailey, Burberry creative director, unexpectedly proved to be a fan of pink colors in men's wardrobe. In his new collection for the British brand, he paid enough attention to the bright, almost neon-pink trenches made from the materials that are extremely reminiscent of crumpled foil.
And, of course, we will never forget Bill Gaytten's collection for John Galliano, presented just before the close of the Men's Fashion Week in Paris and abounding with rather odd design decisions, such as patterns of clouds, lobsters, and antlers.