Color does matter a lot when two high-profile fashion houses clash over its exclusive use – which is not to be, the judge ruled. In other words, Christian Louboutin lost out the judicial examination of exclusive rights to red shoe soles to its glaring rival Yves Saint Laurent.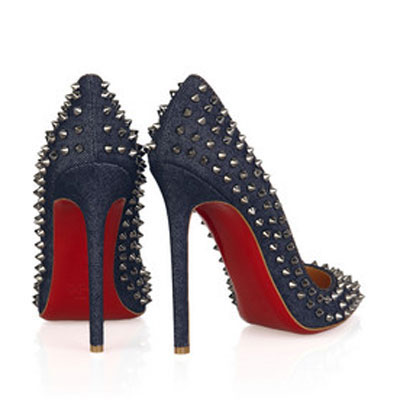 Louboutin, who claimed that scarlet outer soles are its signature and the soul of its famous exorbitantly priced shoes, took the matter to New York federal court – and had to bow to the ruling of US District Judge Victor Marrero who said that although Louboutin was universally credited with the trailblazer painting of the underside of the shoe, it doesn't mean that its competitors should be forever deprived of the use of the color.
"Color serves ornamental and esthetic functions vital to robust competition," said the judge, closing the lid firmly on the million-dollar court case claiming "unfair competition" that had been filed in April because by turning out a series of women's shoes YSL, in Louboutin's opinion, infringed its trademark and aimed to cause a wilful confusion among customers.
Judge Marrero (a man very much partial to sexy slip-ons, it appears) started with expressing his deep appreciation for the marvelous shoe design and for the creativity of the famous brand, citing Walt Whitman and modern film stars like Lopez. Nevertheless he remarked that Christian Louboutin had already collected its dividends from the "bright idea" and daring to break out of the bounds. Black and red heels, he wrote in an inspired piece of ruling, when spotted on supermodels and Hollywood belles as they tread red carpets, strike their glamorous note without fail.
But even Louboutin can hardly insist on making a trademark out of a color and monopolize it to an extent detrimental to healthy competition – so there are valid reasons for YSL and other fashion designers to make use of red when creating shoes.
YSL produced four shoes with red outsoles that brought forth Louboutin's outburst – Tribtoo, Woodstock, Palais and Tribute from the 2011 Cruise collection. In reply to the rival's protests the fashion house said that Louboutin's claim was ridiculous since red-soled shoes date back to King Louis XIV's dancing shoes and were even perpetuated by Lyman Frank Baum in The Wizard of Oz as Dorothy's ruby slippers (arguments seconded by Judge Marrero). YSL also affirmed that it used red for shoes as far back as the 70s.
According to AFP, Louboutin's attorney Harley Lewin professed his extreme disappointment with the assertion that single color can't be used as a trademark – especially after recognizing that it is the company's signature feature – and termed it as a "sua sponte" decision. He added that they had gotten busy gaging all possible alternatives.
Christian Louboutin's acclaimed luxury footwear can boast the US sales of around 240,000 pairs per year with revenues coming up to over $130 million. An average price for a pair reaches from several hundreds of dollars upwards. Its red-soled Maggie Leopard-Toe Pump, for one, can be had at the Neiman Marcus department store for $1,095.
Also Louboutin shoes were chosen to feature at the television series Sex and the City that sets standards for millions of customers worldwide.
Source of the image: Graziadaily.