Until recently, every self-respecting fashionista had to have a floor-length skirt, a leather bag and ballet flats. This summer everything has changed: long skirts are declared out of fashion, instead – a model with an asymmetric hem has been offered; the celebs forgot about Birkin and do not to part with woven bags. Now it is time for ballet flats.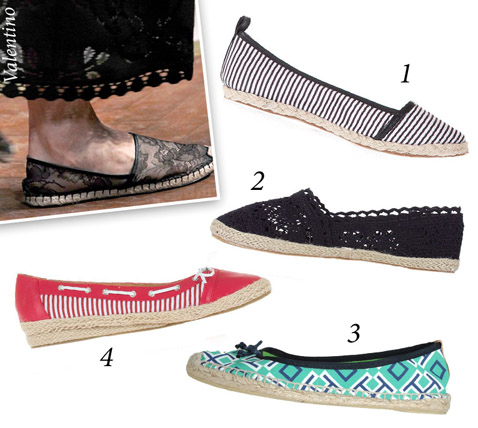 Ballet flats occupy only the second place on the podium: this season espadrilles are ahead. The most original (made of transparent lace) can be seen at Valentino show, but the undisputed favorite of the celebrities are Chanel espadrilles (the fashion house has been producing them for more than a year).
Espadrilles are Catalan peasant shoes of the early thirteenth century. In the 60-s of the XX century designer Yves Saint Laurent introduced an updated version of this shoes: instead of a flat foot, he suggested wedge heels. Since then, traditional espadrilles have been overshadowed.
Among the admirers of this trend were Kate Bosworth, Marion Cotillard and Emma Roberts. Although not everyone in Hollywood is willing to part with ballet flats. For example, Heidi Klum and Taylor Swift prefer ballet flats to all the other fashionable shoes. By the way, the famous fashionista Olivia Palermo is also in no hurry to buy the trendy espadrilles. On which side are you?