Not only teenagers and young women suffer from serious eating disorders accompanied by mental problems. Ladies in their fifties also struggle for slenderness using all available methods and … also go to extremes.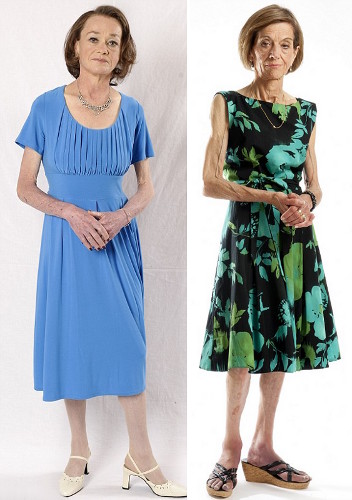 Before her 54-th anniversary, an Englishwoman Margaret Bradley never had problems with being overweight. She wore size 42 (having two children), visited gym regularly, went for a run and ate healthy foods. People kept saying that she looked ten years younger. But when she turned 54 she thought that she might lose shape with age. So just before Christmas, she decided to lose a few pounds not to worry about weight during the holidays.
Margaret reduced her daily intake to 1200 calories – the kilos started to melt, but not as fast as she would like. Then she cut down the menu for another 200 calories and began to consume only 1000 calories daily, which is about half the daily allowance for healthy women. Christmas passed, but the process of losing weight captured the lady so that she did not want to stop. Her husband noticed that the spouse became too skinny and advised her to stop the diet, but in vain.
Mrs. Bradley said she had porridge for breakfast and the rest of the day she ate salads. She also missed lunches with friends. A part of her, of course, knew that she lost too much, but another part said she must move on. So the woman found herself in the grip of anorexia. And she is not the only one! The disease is associated with girls and young women, but recently the number of aged patients has increased – just imagine – by 42%!
78% of all deaths from anorexia is made up by people older than 50. Their average age is 69.
The disease's consequences for these patients are much more serious than for the youth. Margaret Bradley says that she used to work as a nurse but she gave up because she had an incredible weakness. She could not even hold her grandsons without the danger of dropping them. Her family began to force her to eat, but she still refused. The woman was saved when she went to see a doctor because of back pain. It was he who noticed abnormalities. Margaret was immediately taken to hospital, though she was against. She said she always thought anorexia was a problem of adolescents. She even bought the same size clothes, because she did not realize what was happening to her body. When she went to the hospital, her weight was 27 kilograms. Doctors said she was going to die in a few months, if she did not begin to eat normally, and she decided that something must be changed. As a result, the woman managed to recover.
Another victim of anorexia is the 49-year-old Ruth Hughes who hated her belly all her life. She said she could not have children, but the size of her belly was as if she were in the sixth month. The woman decided to lose weight: from 76 pounds she became 38 – and the result still did not satisfy her! Ruth could not get out of bed. Her husband insisted on her seeing a doctor, and it saved her life. Now, Mrs. Hughes weighs 53 kilograms, but she says she continues to struggle with the desire to go on a diet. She says she will never be able to eat normally.
According to the International Journal of Eating Disorders, 70% of women after 50 try to lose weight, and their number is constantly increasing. The reason for such problems, experts say, is that we see the overphotoshoped faces of the celebrities in the pages of glossy magazines and tabloids: the 53-year-old Madonna, the 54-year-old Sharon Stone, the 49-year-old Elle Macpherson – they all look great at their age. Ordinary women do everything to achieve a similar result. However, they do not realize that the celeb's photos are usually retouched heavily.
And what do you think about "aged" anorexia?