Which of the beautiful evening dresses will be the most fashionable in the coming season? A short suit. This is the choice Eva Herzigova has made at Cannes.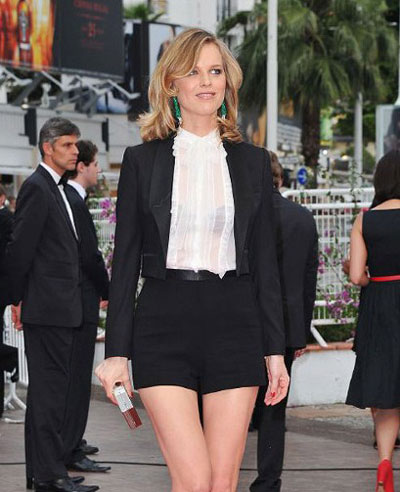 According to the designers, this item of clothing is a unique mixture of styles. On the one hand, it is an official style where a great role is played by jackets, shirts, ties and pants which must be harmoniously combined in style. And on the other hand, it is a more independent direction, a protest against business clothing which tends to be candid.
So, Eva Herzigova has substituted trousers for shorts and put on a sleek black tuxedo which at once distinguished her from the rest of the crowd where almost everyone was wearing a trouser suit. It took two seasons for Eva to have been sewn these unusual shorts for the evening. Now, a short suit is a new trend. A respectable top half of the attire is balanced by the shorts which open up legs and attract attention. This is a great option of clothes for the women who want to seem serious and, at the same time, sexy and self-sufficient.
There is another big advantage of this suit – it is relevant for the summer season. With the approach of summer business women have concerns about how to wear costumes in the hot sweltering weather. But fashion does not stand still, and now, to the delight of the vast majority of business women who are burdened by the strict rules of dress code, there is a decent way out – a short suit. This is a unique opportunity for women to look fashionable and stylish and still feel confident.
Source of the image: Fashion.telegraph.