No sooner had the journalists of the yellow press written about the celebration of the 37-year-old supermodel's birthday which took place in Paris in her fiancé's company that the girl presented paparazzi with another occasion to talk about her. This time, by having a very intimate photo shooting for the glossy LOVE Magazine cover.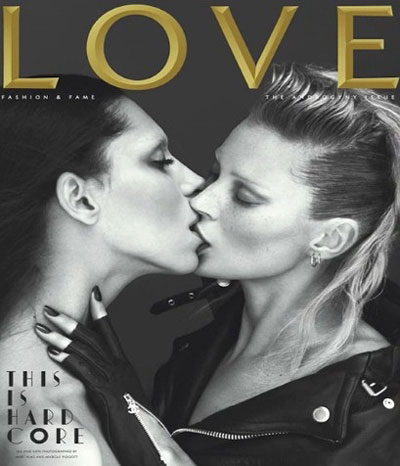 The cover of the spring issue of the magazine displays Kate Moss kissing with Lee Tee, the famous transsexual model. The shot was taken by a well-known in the world of fashion couple of Mert & Marcus.
The critics argue who looks manlier in the photograph: Kate or Lee, who is undergoing a hormone-containing therapy after her sex change surgery? As a matter of fact, it was not accidental that this scene should have been placed on the cover. A few articles in the magazine are dedicated to hermaphrodites and transsexuals.
Even though Kate Moss refused to have traditional scandalous parties on her birthday, she definitely feels bored without another surprise for the journalists.
Source of the image: Myfashionlife.