Bandage dresses have become a major fad amongst female celebrities these days. You will find the top A-list celebrities being dressed in bandage dresses on events and parties. May it be Victoria Beckham or Lindsay Lohan, these girls are just going ga-ga over bandage dresses this Summer.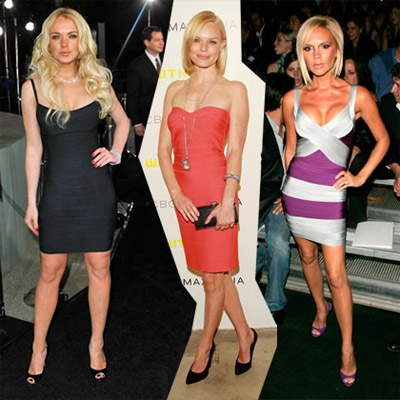 However, if you are the one who fancies wearing a bandage dress, the following are some tips for you which would not let you become a bundle of fashion disasters this summer.
Bandage dresses can be worn by any one. It is a mistaken belief that women with hot curves should not wear it. However, if you are the woman with great curves, wear a bandage dress and flaunt it with confidence and dignity.

If you think that bandage dresses require a lot of makeup with foundation all over your face and body, painting your lips with dark shades and decorating your eyes with false eye lashes; these are mere accessories, and can sometimes hamper your overall look after wearing a bandage dress.
For more bandage dresses, you can check out Max Azria's new Herve Leger spring 2009 collection. This collection is decked up with a lot of bandage dresses without any crazy cuts to offer a chic and elegant look.
This summer time, you can go for dress colors like red, orange, neon, and rainbow shades.

If you are a lady with really long legs, you can sport a bandage dress with a high neck, but if you are a petite woman, you must avoid this style and opt for spaghetti bandage, strapless or even broad shoulder dresses.

To enhance your look, you can even wear a cardigan on top of your strapless bandage dress.
Source of the images: chicstories.com, net-a-porter.com, justjared.buzznet.com, dailymail.co.uk.