Every woman wants to look like a queen on her wedding day. At the last London Jewelry Week, Adami fashion house showed off 240 000 pounds sterling platinum wedding gown. Only a few could afford this luxury. Today, we are going to talk about fashionable wedding dresses for mere mortals.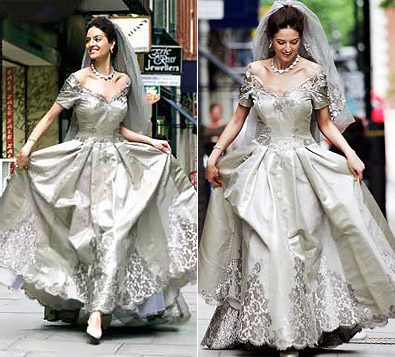 Trendy Wedding Dress Colors
Snow-white romantic wedding dresses are still in. There are other less traditional colors to choose from – ivory white, cream, beige, light green and even metallic color. Those who prefer brighter colors may like what renowned Alfred Angelo fashion house has to offer. This season, he is going to preen brides in stunning dresses of different colors, from sea green to Victorian lilaceous and pink.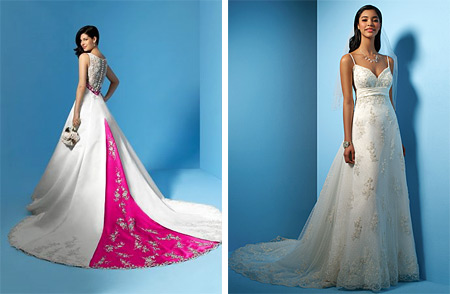 Latest Wedding Dress Trends
Most wedding dress designers now focus on Greek silhouette and Empire style, bouffant bell-skirts and tapered skirts, metal patterns and Chantilly lace. Gowns feature crafty waistbands and embroidery. Many dresses are distinguished by simple cut without compromising their sexy look.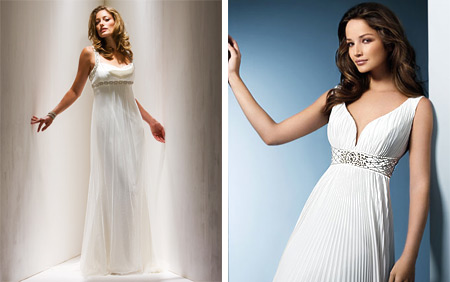 Various Wedding Dresses for Various Ceremony Places
Creating his collection, Oscar de la Renta considered the variety of wedding ceremony places. Each bride will find something for herself. Flowing silk dresses and chiffon gowns for a themed wedding party on an island, silk brocade cocktail dresses for urban fashion-conscious ladies, romantic evening gowns with delicate patterns for a traditional outdoor wedding party.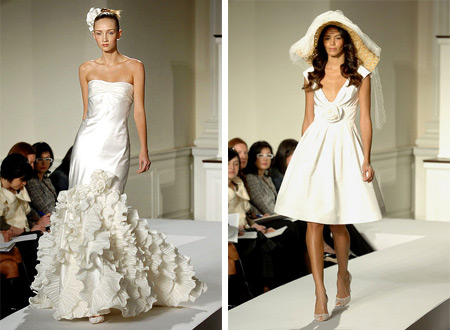 Winter Wedding Dress Ideas
Winter or autumn wedding dresses could be sewn from velvet, taffeta or sateen. When choosing the length, consider weather conditions. On the other hand, cold season is the perfect time to add a diversity of accessories: long sleeve fur mantles, thin-leather gloves or nice muffs would all suit you just fine. You can wear tall boots outdoor and then change them to shoes at a restaurant. This season demands wearing stiletto heel shoes.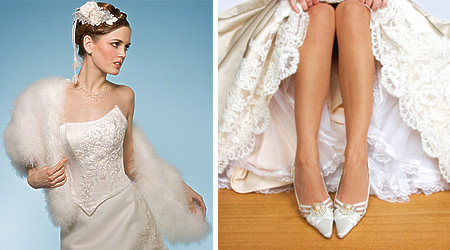 Choosing Bridal Accessories
Bridal accessories accompany a romance of the event. There shouldn't be many of them. This season, designers decorate a bride's neck with a thin golden chain having a golden old-style pendant. Earrings and bracelets could be more intricate – decorative patterns of golden wire, little stones and rhinestones.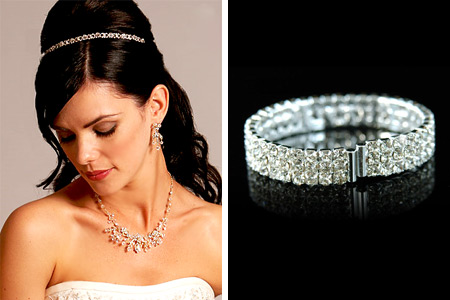 Wedding Bouquets
Winter wedding bouquet includes magnolia, chrysanthemum and hydrangea flowers. While earlier a bride was carrying only the bouquet, now it's chic to have a little bag with enough room for handkerchief, cosmetics, favorite fragrance and a cell phone. Latest trends favor a clutch-bag with a loop handle that allows to carry it hanging on arm.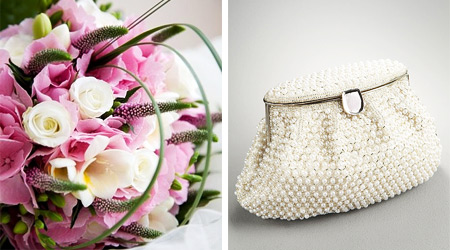 You may also find some ideas in "Bridal Bouqiets".
Source of the images: dailymail.co.uk, alfredangelo.com, sarah-danielle-bridalwear.com, fabsugar.com, absolutelyaudrey.com, winter-wedding-dress.com, my-jewels.com, bridalfashionmall.com, flickr.com, mydallaswedding.files.wordpress.com.