Just a few spring days are left, and summer is on its way. If you have not updated your beach wardrobe with a swimsuit, it's time to do it urgently. Fashion trends and products in shops are diverse, but you do not know what to choose. The perfect swimsuit is not the one that all the girls boast having in social networks, but the swimsuit that fits your figure type. This article will tell you how to find the "perfect combination", taking into consideration your anatomical features.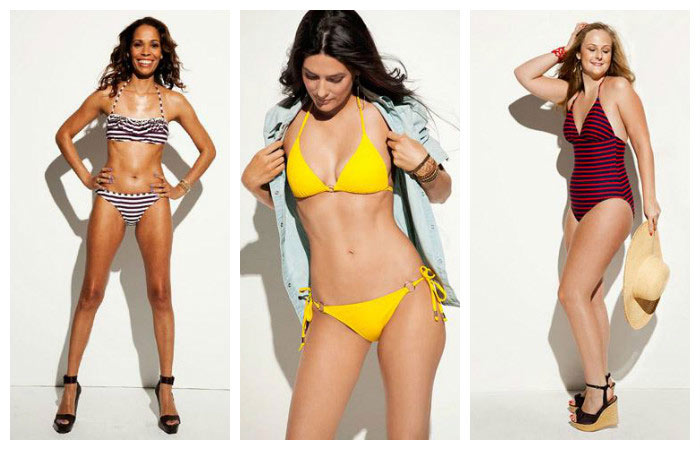 Each type of figure is beautiful and unique. So think of these tips as the reason to try on some of the models in a store, which have never drawn your attention before. We are confident that experiments will bring you a lot of positive emotions. It is always nice to accentuate your advantages and smile at your reflection in the mirror, isn't it?
How to find the perfect swimsuit for your figure type: small breasts
Small breasts are a reason for pride rather than frustration. Many women do not recognize any push-ups. And yet, ladies want to demonstrate their excellent figure on the beach without cotton in the bikini area. To emphasize the elegance of miniature breasts without overloading them, pay attention to the bandeau type of swimwear or the top with triangle shaped cups. The drawstrings around the neck will help to create a seductive cleavage. However, other bikinis should better be avoided.
Swimwear for petite girls
Thumbelina girls often face many challenges, ranging from the notorious jokes about the top shelf to problems with selecting a perfect swimsuit beyond the teen section. Strapped bikinis are a practical solution for miniature girls. You can adjust the size, should it be needed. Clearly shaped cups balance the figure. Bright geometric prints will add some seductive volume.
A "boyish" figure
If you are no longer a teenager, but remain a happy owner of a slim adolescent figure and would like to add a couple of centimeters purely for the beach, do not rush to eat sweets. Instead, try romantic playful swimwear: ruffles and topical fringes – they are designed for you. Such decoration creates the illusion of volume just as the horizontal lines in colors and styles.
A pear-shaped figure
The thin "top" and seductive "bottom" is one of the most common types of figures in the world. The difference in a couple of sizes often turns shopping into hell. However, such ladies will look feminine. As for the shortcomings, they are easy to fix with the right swimsuit. Pay attention to the models with a slightly exaggerated hip line that visually lengthens the legs and makes the hips slim. High frill or a coquettish skirt serves the same purpose, emphasizing the delicate waistline. Romantic colors and a bow on the bra emphasize femininity.
"An apple"
Are you proud of your large breasts, but not confident of whether your tummy is fit? Choose a one-piece swimsuit that is popular this season. Pay attention to the elegant monokini with a high waist and a seductive neckline. In such a way, you will draw attention to the merits of the figure. You do have something to boast.
But one-piece swimsuits will not look complementary enough without a pronounced waist and bodice.
Big buttocks
If you are one of the mysterious girls, who are ashamed of their enviable butt, remember this simple trick. Choose plain panties with a covered booty that are fitting on the "front" side. A top with thick cups and the push-up effect will help balance the figure. Monochrome options will look even more impressive.
"An hourglass"
Congratulations: you can afford almost everything and a little more. To emphasize and preserve the "hourglass" proportions, you will need separate bathing suits with the same print for the top and the bottom, the same décor, bright colors and thick cups.
Do not forget the main thing: regardless of the type and size, your body is beautiful. Indulge it with new dresses that will be perfect for the girls with any type of figure.