Beyonce, whose Mrs. Carter Show World Tour started not so long ago, has managed to shock the audience of the concert in Belgrade with one of her new stage outfits. Here we mean a golden bodysuit, decorated with relief, repeating the shape of a naked female body with the breast represented in details.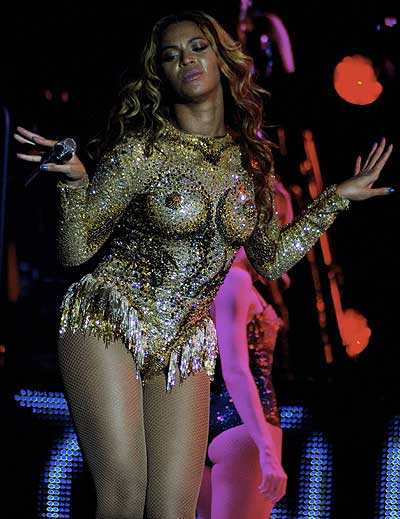 After considering a few costumes from the singer's new stage wardrobe, we also found out that the designers of Dsquared2 brand Dean and Dan Caten, Julien Macdonald and other geniuses of today's podium participated in its creation. Which of them is the author of the scandalous gold dress is still unknown, but we do know that the creative director of Emilio Pucci, Peter Dundas, who is also one of the founders of the singer's stage images, is responsible for the sets with high boots.
We have not got any concert pictures of our heroine in the outfits created by Dundas, the fan of Eastern exoticism, but we can consider their drawings, made by the artist himself. Here one will see suede boots up to the hip, which relieve you of the necessity to choose stockings; mini-dresses, as well as body and jackets adorned with the kaleidoscopic shiny applique, metallic threads and abstract watercolor prints, enveloping the body with shimmering precious patterns.