For the second year in a row, well-known fashion houses are involved in an unusual action: the leading designers come up with original collections of Pudsey teddy bears. Initially, these bears had been very popular in the UK, and then they quickly gained popularity among the adults and children around the world.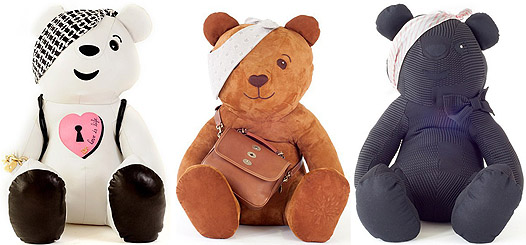 This time, the fashion experiment is going to be supported by such famous brands as Louis Vuitton, Balenciaga, Burberry, Versace, Gucci, Alexander McQueen, Pucci, Vivienne Westwood, and even Victoria Beckham had long been puzzled by the design of her teddy bear. She was certainly helped by her sons and little Harper.
Designer Henry Holland, who treated the idea of creating teddy bears with enthusiasm last year, designed a teddy bear once again – this time the designer chose a contrasting combination of blue and red colors and granted his leather teddy bear with a smile and pads with rhinestones. It proved to be eclectic and defiant – the designer decided that people with a bold imagination would wish to purchase this bear.
Speaking of purchases, the unusual plush collection will be put up for the auction, which will take place on November 15. All the raised money will be distributed among children's charities.