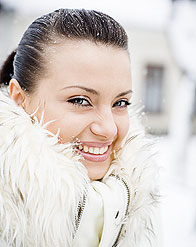 Indoor heating that keeps us warm during chilly fall and winter nights is what actually damages our hair in the first place. Trichologists claim that drying effect from heaters is even more harmful for your hair than ultraviolet radiation. You will need extra care if you additionally got your hair permed or heavily highlighted. Even the healthiest hair won't be able to withstand such a harsh chemical treatment. Today, most women are using heat-styling appliances and styling products on a daily basis. With windy fall or winter weather, we seem to only double our styling efforts. This puts an extra stress on the hair.
How to Protect Hair in Winter
Below you'll find some very useful tips on how to take care of your hair in cold weather.
Using hair conditioning is a must to reduce dryness. Make sure you apply moisturizers, hair masks, or deep conditioners regularly.
Set your hairdryer on a cool air blow mode and avoid over drying.
Choose the right hair styling product.
Hair Styling Products for Winter
Fall and winter require hairstyle products to provide a stronger hold to lock a hairstyle into place, even under a hood or hat. It will prevent you from applying a lot of stuff with a lighter hold. And that would save your money, too.
Wearing a hat makes your hair get dirty quicker and looking less attractive. The scalp suffers from the air deficiency because close fitting hats prevent the scalp from being able to breathe.
Winter Hair Loss
Low temperatures activate sebaceous glands to produce more oil that naturally protects the scalp from the cold. Unfortunately, this secretion of excess oil often results in hair loss.
Temperatures and Hair Health
Here's another useful tips. At first, wash your hair with lukewarm water, neither hot nor cold. Hot water may cause the scalp to produce even more oil. Below-zero temperature, on the contrary, constricts blood vessels, and thus restricts nutrients and vitamin flow to nourish the scalp. Apply vitamin hair mask once or twice a week.
Hair Care Products for Winter
Be mindful of your shampoo. Cut down on 2-in-1- like products (Shampoo Plus Conditioner) leaving them until spring. The fact is that their formula components weigh down hair at roots and decrease volume and bounce in hair. Hair volume is suffering under hat as it is.