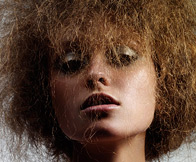 Permed hair is a good trick women with thin and smooth hair can use as well as those who want to have a nice hairstyle all the time. On the other hand, hair perming strongly influences the structure of hair, which can lead to serious problems in some cases. Here is how you can ease possible bad effects of hair perming.
Before Hair Perming
Do not dye hair or enhance the color of your hair using chemical remedies before hair perming. That will overburden your hair. In addition, perming agent will make the hair lighter anyway. It should be a minimum two weeks interval between dyeing and hair perming.
Hair Perming Contraindications
You'd better reschedule your hair perming if you feel sick or have low blood-pressure. By the way, hair perming requires warm room and your full stomach.
After Hair Perming
Right after hair perming your hair is very sensitive. Therefore, try to avoid washing your hair three days after hair perming. For washing premed hair, use permed hair shampoo or mild shampoo for damaged hair.
Hair Masks for Permed Hair
Hair masks providing healthy substances (moisturizing panthenol and keratins, collagen and silk proteins) can help moisturize and strengthen permed hair and make it shiny and silky again. Hot oil hair masks bring the same effect.
There are some hair-friendly perms with low alcohol content available on the market. This is what you are looking for if you are out for a perm.
Perming and Hair Color
If hair perming pales your hair, use organic remedies to enhance your hair color. These remedies not only add richer color to your hair but also help make it healthier. Organic dyes cover the hair with protective layer, horny layer gets smooth making your hair shiny.
Split Ends after Hair Perming
Often, hair perming leads to split ends. To make hair look healthy, trim the ends off regularly or apply a special cream.
Comb or Brush for the Permed Hair?
To make your curls last longer, brush your hair with a wide-toothed comb. Hair brushes or combs with close-set teeth impair the form of your curls.