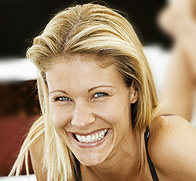 Yesterday here was an article about the second type of face skin aging, "webbed face", and the way of taking care of such face. Today you will learn, how to treat the "Loss of shape" aging type. A characterised feature of "deformed" face is extensive sagging. Cheeks grow flabby, eyelids fall, the face oval blurs out, and develops a gloomy, peevish look. This aging type is common among obese people with oily, porous skin.
Massage for Skincare
This type requires massage therapy as well. The procedure will restore the muscle tone, the skin will tuck in and pull up. Different kinds of lifting can be used – myostymulaiton, ultrasound, vacuum massage.
Modelling Mask to Shape the Face Again
Yet another powerful technique is modeling mask. Those masks help put the flabby skin back in shape. The most common and accessible is a wax mask. Cosmetician at first shapes the face and then "secures" it with heated up wax (around 55 °С, or 122 F). The substance cools off and contracts, creating a press effect; blood circulation improves, fluids draw back, puffiness is gone. Ten sessions of such therapy will restore the face oval to some level. People who have this type of face should consider plastic surgery at some point in life. Upper lids overhanging state and adipocele can be removed only with blepharoplasty.