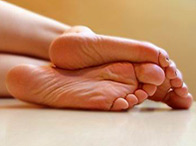 In summer, when the baking sun is shining mercilessly and is drying out the skin, what is the way to keep your heels sleek and beautiful? Fruits and vegetables will come handy here. They are good not only for masks to rejuvenate the skin and the hair growth, but are also effective in making the skin of the heels sleeker.
Apple for Healthy Heels
For instance, an apple is very helpful for little incisions. It should be finely grated and applied on the chapped heels.
Grated Onion to Make Heels Neat
A fresh onion works well, too. At first it is finely grated, then the pulp is placed on a piece of a thick fabric and is fastened with bandage to the heels. The procedure should be done a few days in a row.
Cabbage for Beautiful Heels
Another affective method is a leave of a fresh cabbage. It is placed on the heels for the night and in the morning any moisturizing cream is applied to the little incisions.