The result of this collaboration will be a collection of makeup for the New Year season, Holiday-2012. The collection bearing the name of Karl Lagerfeld will be released by the Shu Uemura brand.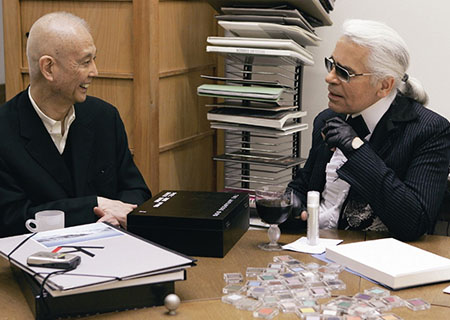 These two great men from the world of fashion and beauty have been in touch for more than 20 years. They constantly emphasize in their interviews that they admire each other's talent. Shu Uemura is known for his revolutionary approach to women's makeup, he treats it as a work of art. Lagerfeld is one of the most influential designers, he is never tired of giving innovations and new perspectives on female beauty to the world, whether it is his work for Chanel, or no less important design projects of his own.
Karl Lagerfeld himself explained why he had decided to collaborate with the Japanese brand. According to the designer, he had created a collection together with Shu Uemura because other brands could not offer such beautiful colors.
Karl fully developed not only the palette, but also the packaging of the new collection. The new items will be available from November 2012. The collection will be limited, and it may become a rarity, so one should look forward to the official information from the brand to be able to buy something.